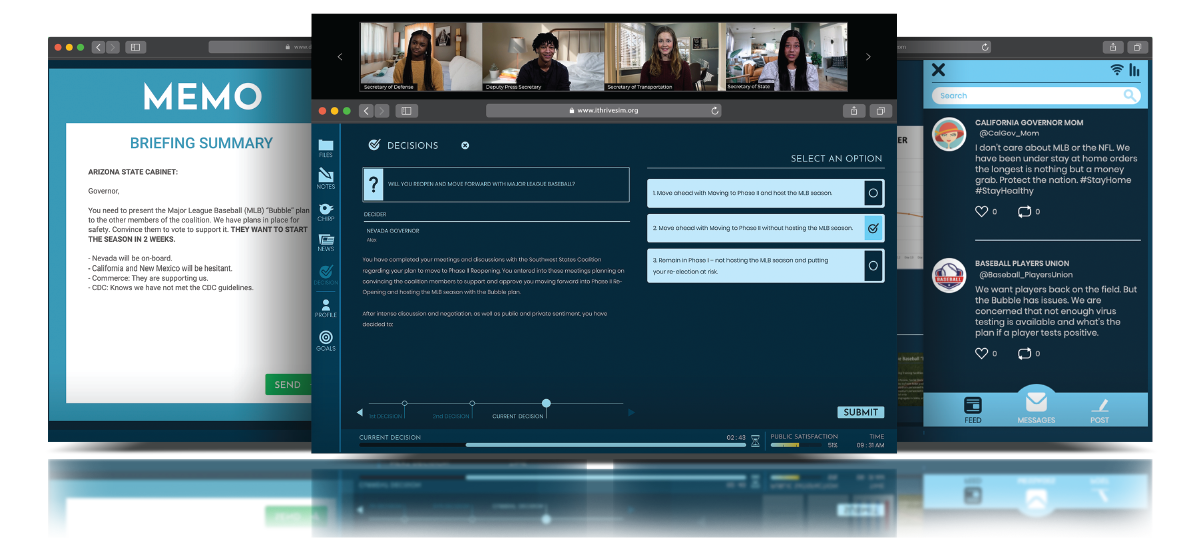 iThrive Sim is a digital platform that hosts a library of role-playing simulation scenarios designed to deepen civic and social and emotional learning in high school social studies, history, and humanities classrooms.
Awarded for its innovative response to the need for flexible classroom tech
, iThrive Sim's dynamic features power online gameplay and immersive learning to create one-of-a-kind collaborative experiences for high school students whether they're learning in person or online.
While engaging on the platform, students can read, access, evaluate, and create content, sharing what they find with their team members as they work through each simulation's storyline
together
.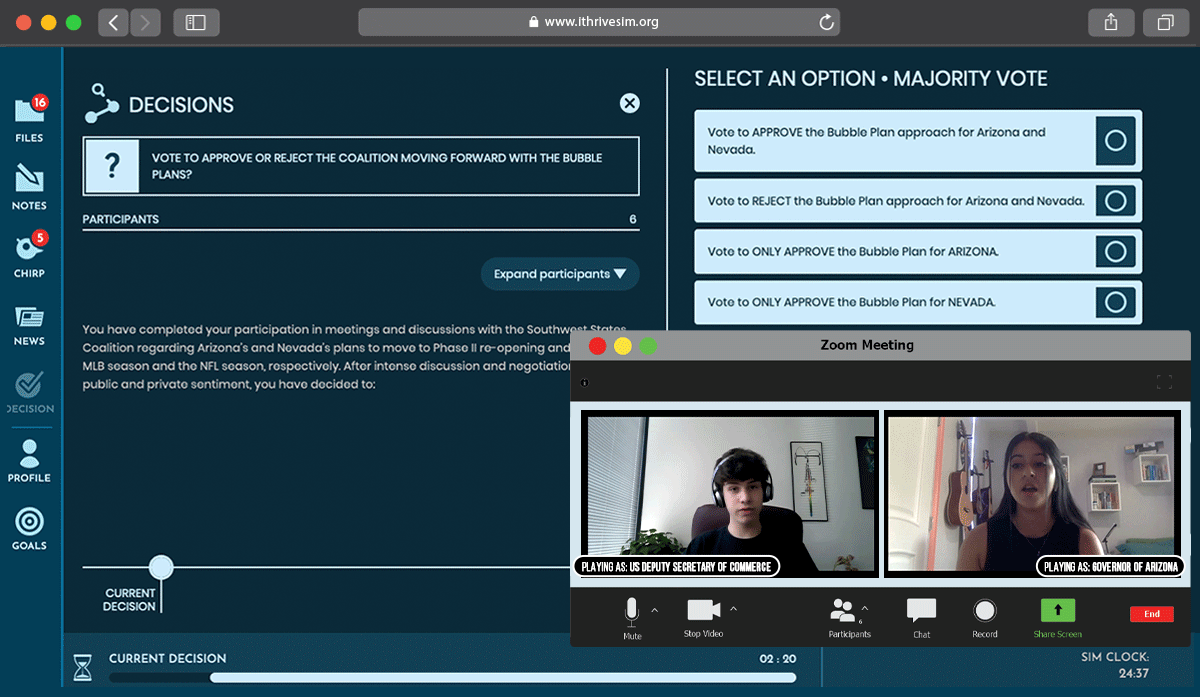 Learning By Doing, Together
iThrive Sim's dynamic tech supports student-driven learning. How the storyline unfolds in each simulation scenario is determined by the actions students take together. To decide on those actions, they assess and make meaning of the content they encounter on the platform, developing understanding that goes beyond surface knowledge. The choices and interactions that drive the game forward draw on their social and 
emotional skills and prompt teens to use them while navigating challenges collaboratively.
Here's a glimpse of what gameplay looks like:
Frequently Asked Questions (FAQs)

How do I bring iThrive Sim to my classroom?
iThrive Sim features an easy-to-use dashboard that enables educators to set up and run simulations in their classrooms. To bring iThrive Sim to your class, review the scenarios below, then register on the iThrive Sim website to begin the setup process.
Are iThrive Sim scenarios standards-aligned?
iThrive Sim's role-playing scenarios and their accompanying, optional lesson plans align with state content standards, national College, Career, and Civic Life (C3) Social Studies standards, and CASEL social and emotional learning competencies. View all scenario standards here.
Does iThrive Sim tech work in all classrooms?
The iThrive Sim platform can be used in any space with access to Wi-Fi and a 1:1 device such as a laptop or tablet. iThrive Sim was designed to function within school firewalls. If your school has advanced firewalls, please contact your IT administrator to request access to the site.
Explore iThrive Sim's Role-Playing Scenarios: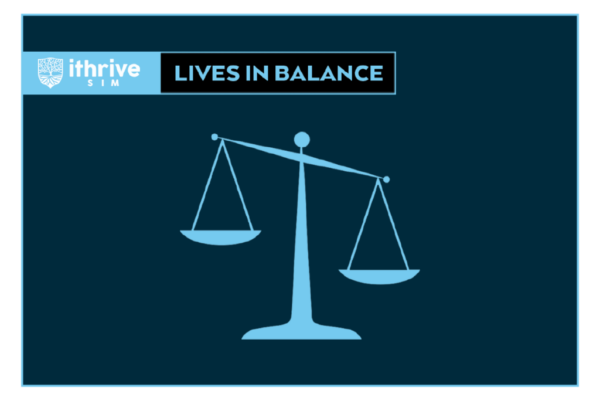 A public health crisis is unfolding and the information is rapidly changing. Officials have governing to do, but agendas are clashing. Invite your students to chart a way forward and explore federalism and states' rights in iThrive Sim: Lives in Balance.
Play Time: 35 minutes (not including prep and optional activities)
LEARN MORE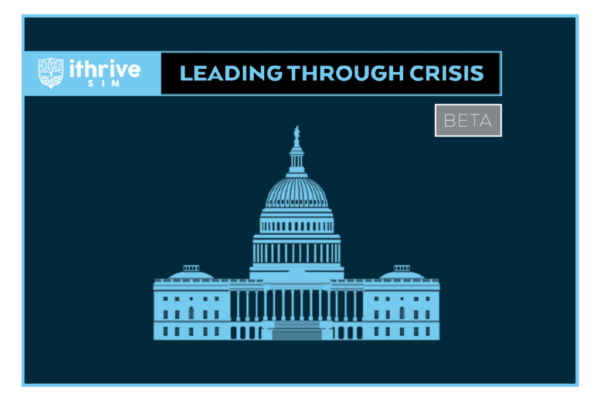 A groundbreaking law is about to pass when crises at home and abroad shock the world. The U.S. public wants answers. Invite your students to find them by diving into the workings of the executive branch in iThrive Sim: Leading Through Crisis (BETA).
Play Time: 60 minutes (not including prep and optional activities)
LEARN MORE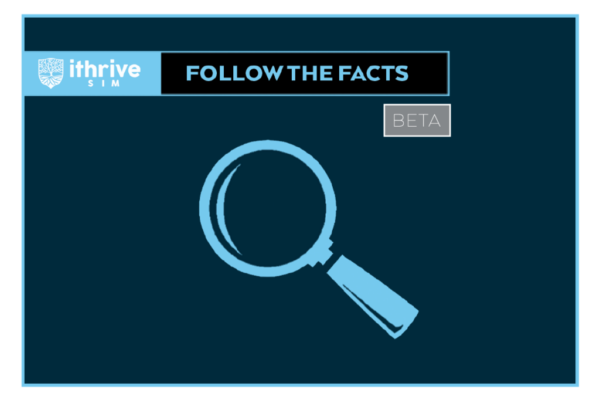 A storm is coming, a mysterious illness has the community on edge, and residents want to know the truth. Invite your students to uncover and report it while building their media literacy skills in iThrive Sim: Follow the Facts (BETA).
Play Time: 60 minutes (not including prep and optional activities)
LEARN MORE
Not sure which iThrive Sim scenario to bring to your classroom? Use this comparison chart to support your decision-making.
Awards and Recognition

Gold Award, 2020 Response,
2021 Muse Awards
(iThrive Sim: Lives in Balance)
Bronze Award, Interactive and
Immersive, 2021 GLAMi Awards
(iThrive Sim: Lives in Balance)

Finalist, Games for Learning/Simulation Solution; Finalist, New Products,
EdTech Awards 2021 (iThrive Sim)