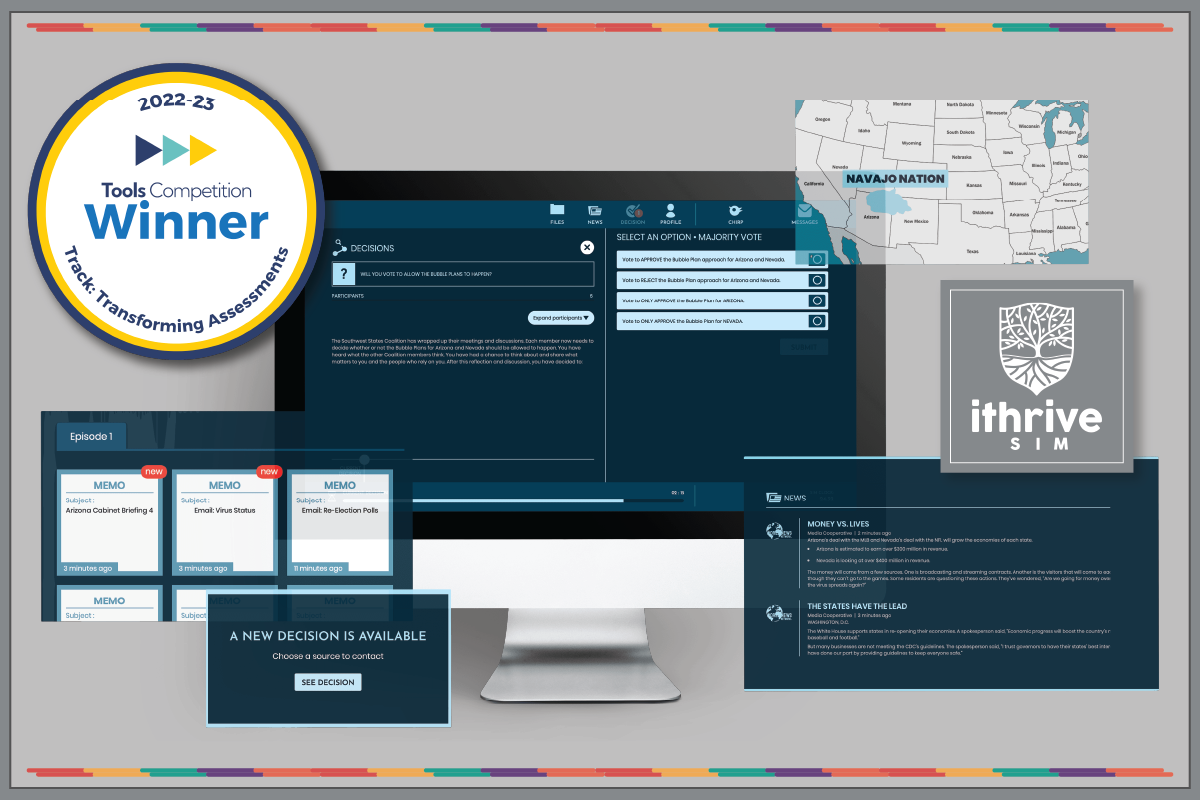 Categories:
iThrive Games Named a 2022-2023 Tools Competition Winner
With the Tools Competition's $100,000 award, we're expanding iThrive Sim with new ways to measure and assess teen social and emotional learning through play.
NEWTON, MA - Today, iThrive Games was named one of 32 winners of the 2022-2023 Tools Competition. The nonprofit, which leads the development of wellness-supporting games and interactive experiences designed with and for teens, joins teams from 12 countries being awarded more than $4 million to develop and expand tools that will impact 35 million learners by 2026.
As winners in the Transforming Assessments track and recipients of a Growth Phase award, iThrive Games will receive $100,000 to expand its proprietary simulation game engine, iThrive Sim, with new ways to measure and assess the teen social and emotional learning (SEL) happening on the platform through play.
iThrive Sim authors and delivers immersive and interactive simulation games for teens that translate into meaningful learning experiences in the spaces (in-person and online) where they gather. Since launching in 2020, the game engine, built with iThrive Games' software development partners Affordance Studio, has been cemented as an ed tech tool supportive of deep and enduring social and emotional learning, peer connection, and collaborative problem-solving, earning recognition for its innovative approach to learning and unique response to the educational needs of the COVID-19 classroom. Explore iThrive Sim's dynamic features here.
The Tools Competition win enables the iThrive Games team to build new data collection and assessment capabilities onto the iThrive Sim platform that will allow teens, educators, and teen-serving adults who facilitate games on the platform to measure and evaluate the social and emotional skill-building iThrive Sim games facilitate, expanding the game engine's responsiveness to a growing demand for holistic and experiential learning tools that support social and emotional needs as well as academic ones. Self-reported assessments and expanded monitoring of in-game behaviors will help teen players reflect and become aware of how they collaborate and respond to stress and connect them with tools to calibrate. With the expansion too,iThrive Sim game facilitators will be able to access individual and aggregate reports after each play experience, empowering them with valuable insights to support the planning of personalized SEL interventions.
"iThrive Sim embeds SEL opportunities to support and enliven teen-centered learning across so many topics, from civics education to counterterrorism, from game theory to emergency preparedness, and more," says Susan Rivers, Ph.D., iThrive Games' Executive Director and Chief Scientist. "This Tools Competition win enables our team to continue designing interactive experiences with and for teens on the iThrive Sim platform that are as fun as they are impactful, ones that not only amplify teens' strengths but also equip them with a play-driven way to measure and grow them."
As one of the largest edtech competitions in the world, awarding nearly $10 million to 80 ed tech innovators to date, the Tools Competition aims to grow the field of learning engineering by spurring ed tech innovations that leverage big data to support learning science research and the needs of learners worldwide. This year was its third cycle, generating more than 1,000 proposals from 73 countries.
The 32 winning teams from the 2022-203 cohort hail from institutions and organizations across North America, Europe, Asia, South America, the Middle East, and Africa, and it is an honor for iThrive Games to be among them. Recognized and supported through the Tools Competition, the win recognizes and supports each team in tackling solutions to improve students' K-12 math competency following the sharpest declines in decades, address equity in education, bolster students' problem-solving and emotional skills, and unlock career training opportunities for adults via virtual reality. The next cycle of the Tools Competition will launch on September 21, 2023. To learn more, sign up to attend the virtual competition launch event here. 
"It's been an honor to take part in the Tools Competition this cycle and learn alongside other ed tech innovators who are bridging their expertise with others from different disciplines to craft solutions that accelerate learning and maximize our understanding of what works for young people's wellness and learning," shares Dr. Rivers and the iThrive Games team. "Our work as a nonprofit over the last five years has centered young people's learning and their social and emotional health. We're eager and excited to build on this mission and on what we know already to deliver even more transformative solutions powered by iThrive Sim and impactful play."
To stay updated with iThrive Games' impact-driven game development and experience design work as well as iThrive Sim's expansion, subscribe to iThrive's monthly newsletter here.
A full list of the 2022-2023 Learning Engineering Tools Competition winners and their projects can be found here.
CONTACT INFORMATION
Eghosa Asemota, Senior Director of Marketing and Communications, eghosa.asemota@ithrivegames.org   
ABOUT ITHRIVE GAMES
iThrive Games Foundation is a 501(c)(3) nonprofit organization that leads the development of wellness-supporting games and tools, designed with and for teens. Our team of adolescent development experts builds on 30+ years of combined instructional and game design experience to create compelling and accessible experiences that nurture teens' genius by folding in social and emotional skill-building—a practice proven to nourish mental health and learning.
ABOUT THE LEARNING ENGINEERING TOOLS COMPETITION
The Tools Competition ran two funding opportunities this year: The Learning Engineering Tools Competition focused on Pre-K-12 learners and was supported by Schmidt Futures; Kenneth C. Griffin, Citadel, and Citadel Securities; the Walton Family Foundation; the Bill & Melinda Gates Foundation; and AlleyCorp. The DARPA AI Tools for Adult Learning opportunity is supported by the Defense Advanced Research Projects Agency (DARPA). The competition is administered by Georgia State University and The Learning Agency.