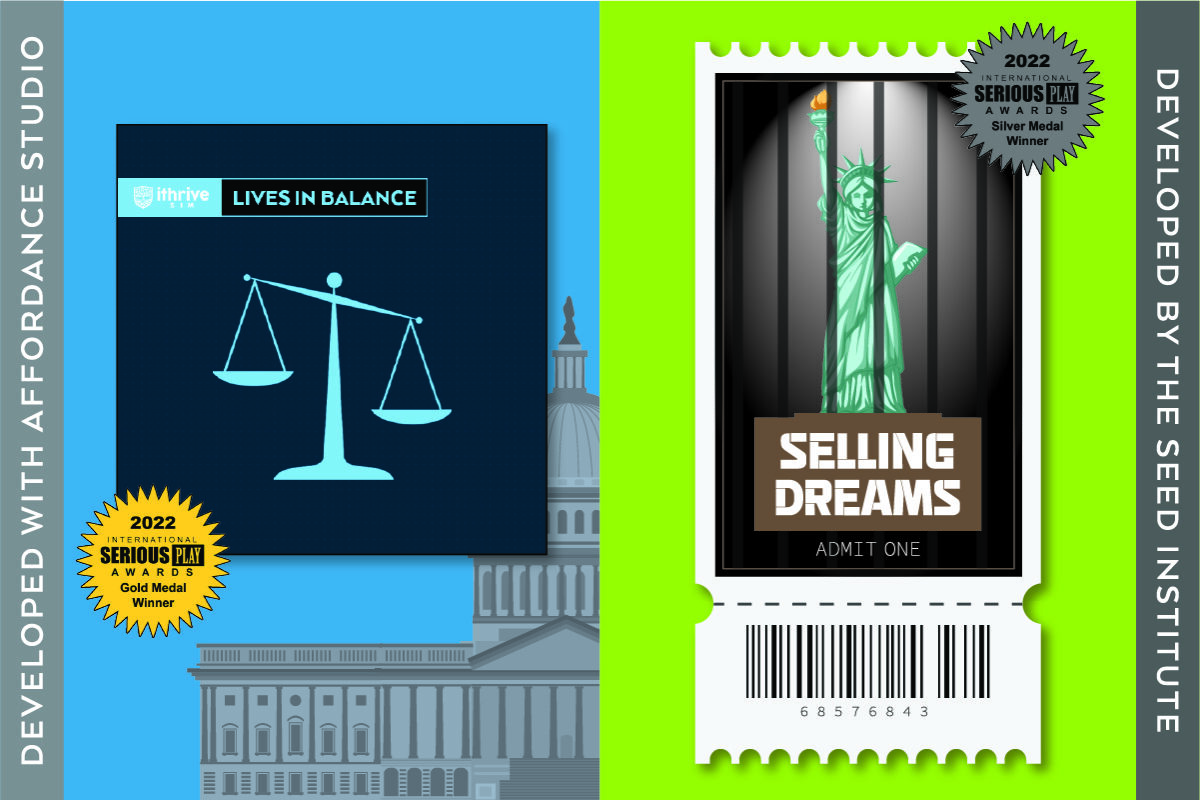 Category:
iThrive Shares Wins with Affordance, SEED Institute at 2022 Serious Play Awards
Lives in Balance and Selling Dreams, two games built on the iThrive Sim authoring platform, won gold and silver medals, respectively, at the 2022 International Serious Play Awards.
For Immediate Release: June 29, 2022
BOSTON— iThrive Games is pleased to announce two shared wins from the 2022 International Serious Play Awards, a program that honors outstanding commercial and student-developed games created for educational use.
iThrive Sim: Lives in Balance, created with our software development partners at Affordance Studio and the masterminds behind the Situation Room Experience, won a gold medal in the K-12 Education category, while Selling Dreams, the latest from youth game designers at the SEED Institute, won silver in the Non-Profit Training category.
Both digital games are hosted on the iThrive Sim platform, a lever for embodied learning and real-time interpersonal connection launched in 2020 to support the unique educational needs of the COVID-19 classroom. On an easy-to-use interface, players are asked to adopt roles, and are presented with unique information and decisions they must wrestle with in real-time. The players make choices that have ripple effects and drive the game forward. The device-agnostic, web-based software uses synchronous and asynchronous information delivery mechanisms to get players to work together and engage with the information they encounter in different ways. The immersion that iThrive Sim facilitates promotes enduring understandings that can be built upon in post-play debriefing sessions.
iThrive Sim: Lives in Balance, played by over 1,600 students and counting, uses iThrive Sim's dynamic features to enliven teen civic learning through student-led connection, improvisation, and embedded opportunities to grow 21st-century competencies. The interactive experience invites teens to play as government officials tasked with making tough decisions in response to a fictional pandemic. As players work through the 35-minute, tech-supported experience together, they evaluate data and lean into social and emotional skills like collaborating, advocating for their points of view and constituents, and compromising with each other to chart a path forward in uncertain times. Curricular surrounds and activities pair with the role-playing simulation game to deepen and extend the civics educational experience.
Selling Dreams, launching later this summer, uses iThrive Sim's immersive platform to tell SEED Designers' stories in an honest and resonant way that names the structural harm and shortcomings they've observed and experienced in Massachusetts' child welfare system. The single-player game invites case workers and youth-serving adults to take on the role of a Guardian tasked with meeting the needs of the young people they encounter and helping them through their unique challenges. In their role as a supportive actor, each Guardian must stay on top of files, messages, and relevant news sent to them about the youth they serve. Players must make decisions throughout the game using the insight they gather about how to engage with those in their care. With the 30-minute game, SEED Designers highlight the demands and stressors experienced by case workers tasked with disrupting the harm while providing a meaningful training opportunity to think critically about the behaviors that encompass truly responsive care and support.
Both digital games attest to the boundless creativity the iThrive Sim authoring platform supports. The content management system used on the platform allows for the development and editing of role-playing scenarios that fit the unique needs of each audience. The iThrive team is excited to invite new partners to use iThrive Sim and support them in creating new interactive, accessible, and scalable learning experiences.
"The iThrive Sim platform is embedding social and emotional learning opportunities to enliven teen-centered learning across so many topics, from civics to relationship health, to emergency preparedness, and more," says Susan Rivers, iThrive Executive Director and Chief Scientist. "One of iThrive's greatest joys is in co-creating new iThrive Sim scenarios with partners — young people and adults alike — in various sectors to amplify teens' strengths and interpersonal connections and make deep learning not only possible but immensely fun and impactful."
To learn more about the iThrive Sim authoring platform, click here. To contact us for questions related to licensing and developing experiences on the iThrive Sim platform, click here.
###
Media Contact: Eghosa Asemota (eghosa.asemota[at]ithrivegames.org)
About iThrive Games: iThrive Games prepares teens to thrive by meeting them where they are and working in partnership with them to co-create a world where their brilliance is honored, nurtured, and amplified. We use games and game design to equip teens with the social and emotional skills they need to be healthy and resilient.