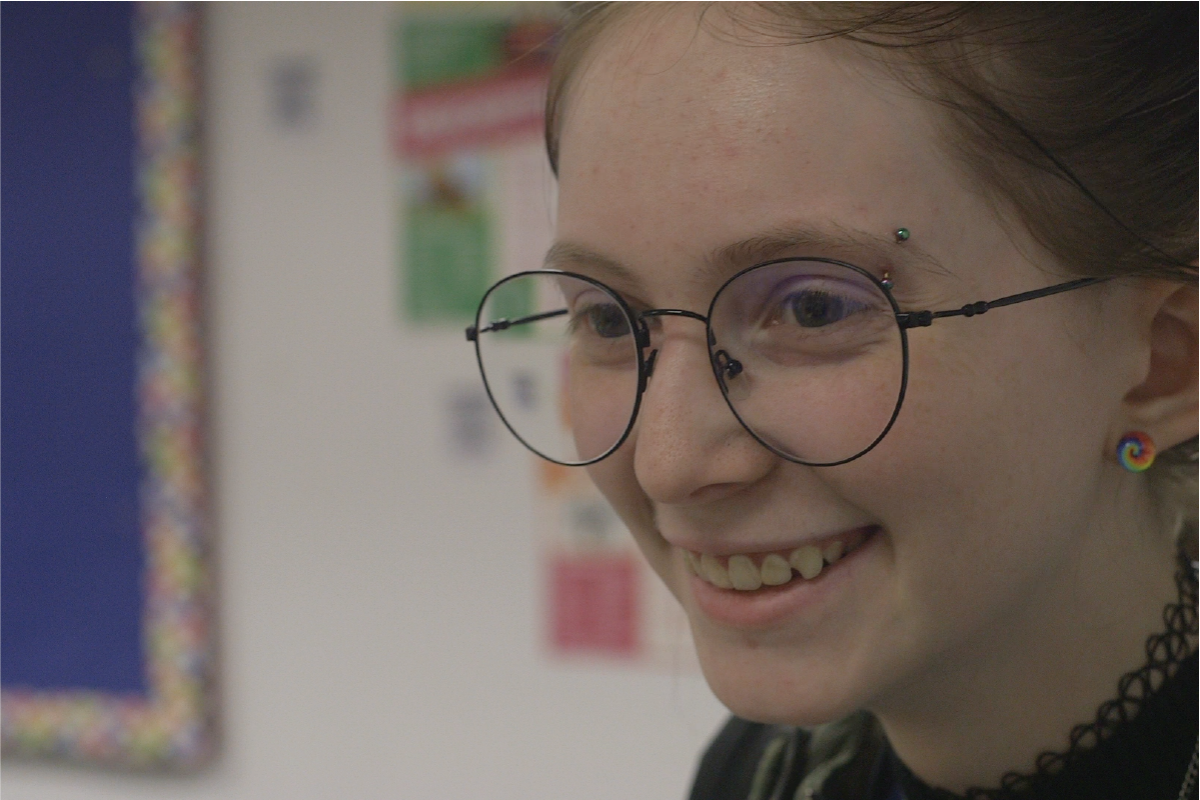 Category:
We Can't Design Games for Teens Without This
Susan Rivers, PhD and Gabbie Schlichtmann, EdD share on Game Design Studio, a game-based social and emotional learning program for teens.
iThrive Games and EdTogether are co-designers and co-facilitators of Game Design Studio, a special game-based social and emotional learning program for teens. In this post, you'll learn: what teens in Game Design Studio have said really matters to them; the goals and structure of the program; its key features; and a primary takeaway from our design work with teens. You'll also be able to watch a brief video about Game Design Studio and learn more about iThrive Games and EdTogether.
It was week four of Game Design Studio at a Boys & Girls Club an hour west of Boston. We opened our session asking teens to complete these statements: "It drives me crazy when adults...." and "I wish adults knew that...".
The flurry of activity—the teens writing their responses on sticky notes—was unexpected. It was as if they couldn't write fast enough to keep up with their thoughts. The eagerness with which teens jumped up to share their responses reflected the urgency of giving voice to their experiences.
"I wish adults knew that teens have their own goals."
"It makes me crazy when adults...punish us, but they never own up to their mistake and never act like they did anything wrong. They never have to say sorry."
"We kids spend a long day at school walking from class and doing homework. We get tired too. And they call us lazy."
"It makes me crazy when adults don't need to do something the child asks, but when the adult asks the child, it HAS to be done."
Across their dozens of responses, many teens came together around mutual respect. That's not really too surprising.
Teens' Need for Respect
Although there are many individual differences across teens, something they share in common is a biologically-driven need to feel respected both by their peers and by adults. Respecting teens means engaging them with the intent to listen and to take their needs and interests seriously.
Even the most well-meaning adults are sometimes guilty of trying to enhance in young people the strengths we want them to have (ahem, self-regulation) rather than empowering them to pursue what they love and to build the unique profile of strengths that makes them, well, them.
In the 1990's, the disability rights movement launched the motto, "Nothing About Us Without Us." The same credo should guide the creation of games intended for teens. It's only when we involve teens directly that we can know whatever we create is truly FOR them.
We have collaborated with EdTogether to create a context for engaging with teens in a deeply meaningful and transformative way. Game Design Studio is our program that encourages teens to express what matters to them and to create games that reflect their point of view, ideas, and experiences.
Game Design Studio: An Outlet for Teen Voice
In Game Design Studio, teens explore who they are and express that to others across a series of sessions as they play, analyze, and co-design games.
Teens create characters, game worlds, rules, and mechanics around themes they identify as relevant to their lives. They test existing games and games of their own design to assess player experiences during gameplay. They alter game mechanics to test hypotheses around what affects player experiences and use that data to make gameplay more satisfying.
"I put what I thought, how I felt, into the game, and I knew that players would feel the same way I felt since I designed the game." - Game Design Studio participant, Age 13
We then share teens' insights with professional game developers with the goal of creating more meaningful games for teens. Game Design Studio strives to create a tight feedback loop in which teens' voices inform the design of digital games, teens play and analyze those games, and the feedback teens provide helps developers to iterate on and continually improve those games.
Inviting teens to dissect games in this way engages them as prosumers. They become critical analyzers of games and make more informed choices about what they spend their time playing. They think about how games were designed to make them feel, and whether they are comfortable with that or not. They are able to articulate what they like and don't like about games, and why. Instead of merely consuming media, they become their own informed advocates.
Key Ingredients of Game Design Studio
We structured Game Design Studio to have six key features that ensure an authentic and meaningful experience for teens:
Focus on Teen Interests. Nearly all teens play games. Engaging teens starts by focusing on something that genuinely appeals to and motivates them. Games offer an excellent context for authentic discussions and learning that meets teens where they are. Games are used as the launch pad for teens to reflect and focus on their own social and emotional challenges and opportunities.
Co-design. Game Design Studio's co-design approach invites teens directly into the game design process. Co-design changes the power dynamic of a typical learning interaction and empowers teens to directly engage with adults, challenge them, and co-design as equals. In this way, teens practice finding their voice and raising it in service of their own learning and development.
Dynamic. The structure of Game Design Studio is intentionally adaptive to the insights and reflections from teens. We're constantly adapting to what teens find meaningful because that's what's going to produce games that feel authentic to teens' lived experiences.
Universal Design for Learning. Game Design Studio was designed using Universal Design for Learning principles. In designing each activity, we consider the diversity and variability inherent to the teens involved and work to prepare the learning environment to be rich with options for how teens take in information and express their new knowledge and skills.
Social and Emotional Learning. Game design requires social and emotional skills. How does the design of the game affect players' feelings? How does the design of the game keep a player engaged? These are critical social and emotional skills — identifying and managing other people's emotions. As teens work together in design teams, they build their collaboration skills.
STEM Skills. In Game Design Studio, teens pinpoint the emotion they want someone else to feel and then leverage engineering principles to reflect, question, ideate, define problems, collect and analyze data, and build and test their creations. This kind of iterative, critical process is essential for learning. It also helps to redefine for teens what "science" is. Science is not confined to test tubes and programming; it's using curiosity about ourselves, others, and the world to pose questions and to experiment with possibilities. This can help to break down some of the barriers to belonging in STEM fields that many teens experience.
Key Takeaway: The Limitations of "Average"
Before iThrive Games and EdTogether launched Game Design Studio, we had only general impressions of "what teens like." But we soon found out that the general or average doesn't actually reflect any one person's experiences, values, or preferences. The huge range and complexity of interests and needs teens bring to Game Design Studio means that we just cannot design meaningfully for teens without engaging with them deeply and authentically.
We engage with teens to listen, not to impose our ideas of what's best for them. We at iThrive Games and EdTogether have committed to only designing for teens alongside a lot of authentic engagement with teens. We heard them ask for mutual respect. We listened and are acting accordingly.
"Game Design's definitely given me confidence in what I think I can do, but it also helped me think about how I could build off of other people's ideas in order to reach one progressive goal." - Game Design Studio participant, Age 13
Get Involved in Game Design Studio
Interested in making a difference with and for teens? Contact iThrive Games about hosting or sponsoring Game Design Studio!
More About iThrive Games and EdTogether
iThrive Games exists to empower teens to thrive using great games. Teen development is impacted by the settings they inhabit — their home, their classrooms and school, their neighborhood, their city. More and more, teens are inhabiting virtual settings. Their screens are available 24/7. They can and do take them anywhere and everywhere. The interactions they have in these settings impact how teens think, behave, and what they value. Video games are prevalent and offer an opportunity to engage teens where they are. iThrive Games is committed to creating meaningful experiences for players in games, experiences where they cultivate assets to support their thriving across the teens years and into adulthood.
EdTogether works to leverage emotion in education in order to engage all students. So many students (and especially students with unique learning needs) experience consistent disengagement from their educational experience, feel negatively about learning, and lack critical supportive relationships at school. This puts them at a significant disadvantage. They are, in essence, emotionally excluded from learning. EdTogether seeks to enhance the spirit of learning among all students by designing educational settings that spark and leverage curiosity and motivation.