CREATED WITH AND FOR THE RONALD REAGAN PRESIDENTIAL LIBRARY AND MUSEUM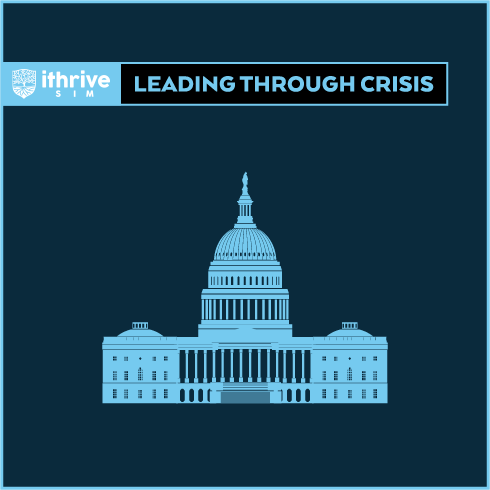 SERVICES: GAME DESIGN, LEARNING EXPERIENCE DESIGN (LXD), UX RESEARCH
FUNDERS: NATIONAL ENDOWMENT FOR THE HUMANITIES (NEH)
COLLABORATORS: AFFORDANCE STUDIO, CUDZU CREATIVE

With funding through the
National Endowment for the Humanities (NEH) CARES
Grant program,
Leading Through Crisis
was designed by iThrive Games and the masterminds behind the Situation Room Experience at the Ronald Reagan Presidential Library and Museum. The multiplayer, tech-powered simulation game launched in 2020 as one of three simulation games designed to support impactful civic learning in teens. Hosted on the
iThrive Sim
platform,
Leading Through Crisis
places teens in the role of a government official navigating domestic and international crises. Players explore the 25th Amendment and the executive branch of the U.S. government, use data, primary source documents, and problem-solving skills as they collaborate to make decisions and chart a path forward. 
In addition to designing the game, iThrive also headed the development of accompanying C3-standards aligned lesson plans and social and emotional learning activities to support a comprehensive and impactful learning experience.

"

It is a super fun simulation that helps to learn about government operations without just reading out of a textbook.

"

— Teen
"They are laughing and arguing and having a great time." — Educator
"I got the chance to stand as someone who is important in the decision-making process for a national crisis. It was fun and I would definitely do it again." — Teen
"I am grateful for our exceptional advisory board of educators and the students who have played with us and shared their wisdom. It's been a dream to empower youth learners with the decision-making tools to become thoughtful and caring leaders."
—
MIRA COHEN
, FORMER DIRECTOR OF EDUCATION AT THE RONALD REAGAN PRESIDENTIAL LIBRARY AND MUSEUM