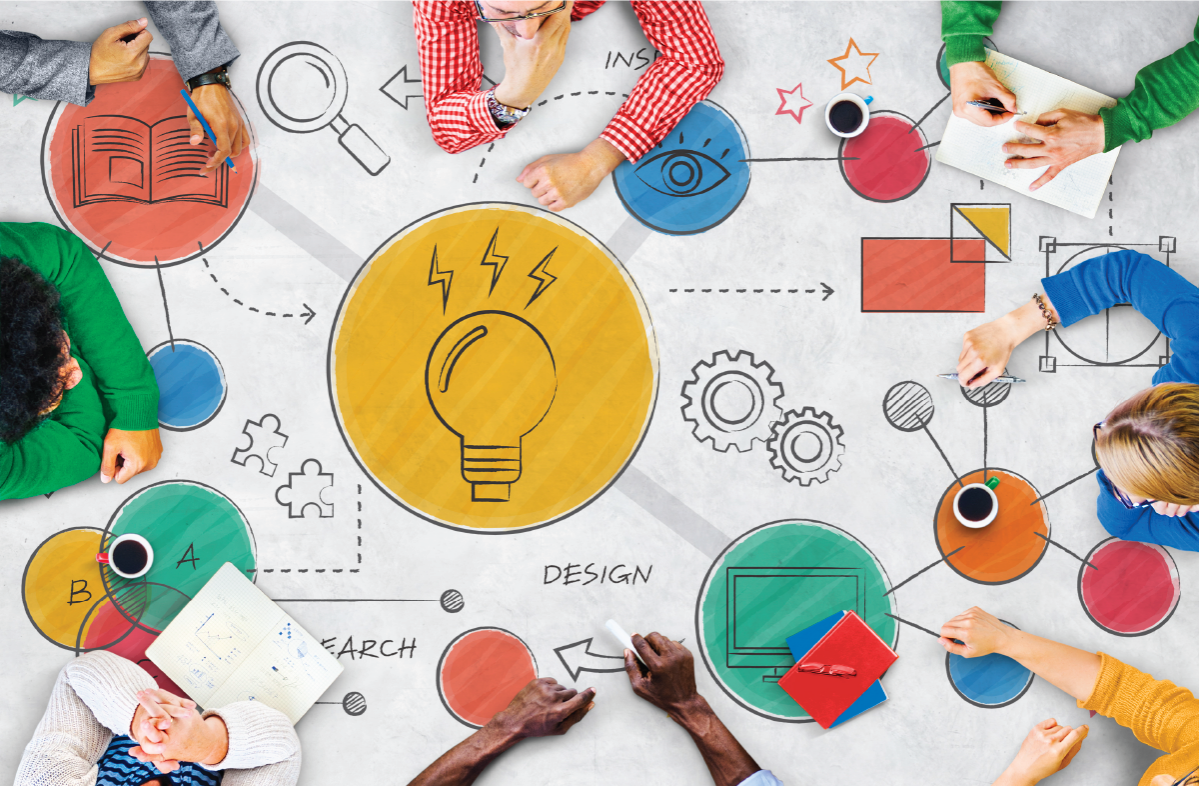 Category:
Game Design Supports Deep Learning. Here's How It Can Help School Communities.
At High Tech High's 2022 Deeper Learning Conference, iThrive's Susan Rivers and Transition HOPE's Janelle Ridley used game design to engage educators in innovative and collaborative thinking. Here's a glimpse into what it can offer school communities.
Engaged learning and connection help us get to the world we're all yearning for—one where we all have the social and emotional faculties to work collaboratively with empathy and curiosity in support of our collective thriving.
At iThrive, we see game design and play as springboards for both, creating connective pathways for knowledge sharing and knowledge building. We invite teachers and students to be game designers as a way to activate deep learning. In using game elements like rules, characters, ways of progressing, and win and loss states to craft a structured game reflective of lived experiences, the game designer has the chance to think concretely about the specific changes they want to see in the systems they navigate. The game they create, in turn, offers a play experience that opens up space for dialogue, exploration, and empathic listening, setting the stage for deep reflection that inspires movement from aspiration to action.
On March 30, iThrive's Susan Rivers and Transition HOPE's Janelle Ridley brought game design to High Tech High Graduate School of Education's Deeper Learning 2022 Education Conference in a deep dive crafted to engage educators in innovative and collaborative thinking. Attendees of their "Game Design for Understanding and Learning" workshop were invited to use game design techniques to reflect on their experiences, connect with other educators who care deeply about student thriving, and envision new practices that support deep learning.
Pulling from our Game Design Studio Toolkit, the four-hour workshop began with play. We played The Run Around, a game created by SEED Designers, and a prototype of one of the games developed by Fugees Family students. These served as an introduction to iThrive's unique use of game design in youth-centered spaces to support generative thinking and social change. Play and icebreakers were followed by empathy mapping, where educators were invited to reflect on their lived experiences as learners and teachers. After analyzing their reflections and noting the shared themes among them, participants synthesized the themes to define core needs, challenges, and possibilities. Working collaboratively in groups, educators then gathered to ideate ways to represent their stories and experiences using game mechanics and world-building tactics. Those ideas came to life in the participants' prototyped game boards and accompanying materials, which were exchanged and playtested by other groups for feedback. From this interactive experience came deep reflection on the needs and wants of students and educators, how things are in education, and how things could be.

The Warm-Up, Empathize, Define, Ideate, Prototype, and Test sequence taken from the Game Design Studio Toolkit.
By the end of the "Game Design for Understanding and Learning" deep dive, 25 educators created four game prototypes that focused on topics such as the importance of designing learning experiences for student agency; the unreasonable demands placed on teachers; how a culture of deeper learning, in contrast to a culture of testing, leads to student success ; and supporting students to embrace productive struggle. Each of these games was demoed at the Deeper Learning Showcase later that afternoon.


Game prototypes shared at the Deeper Learning 2022 Showcase. 
Participants in the deep dive shared that crafting a game based on their lived experience was a great way to solidify their thoughts, think critically about systems they've navigated, and identify ways to change those systems. All were excited and engaged by the deep learning and reflection that surfaced from the experience, with teachers afterward calling game design "collaborative," "relevant," and "an interesting way to view issues and problems."
"The openness and curiosity that comes from play, which is energy giving, creates opportunity for imagination, and to think about what could be next," shares iThrive's Susan Rivers. "Bringing the Game Design Studio approach to Deeper Learning was an opportunity to support teachers in reflecting on new ways of doing and being in and outside of the classroom in service of young people's thriving."
For educators and administrators interested in unpacking challenges in their school communities or sparking new ideas that contribute to educator and student thriving, we invite you to use design thinking activities from our Game Design Studio Toolkit in your brainstorming. Activities included within the complete kit support active listening, needs mapping, and iterative testing to ensure the solutions you dream up with your team are relevant and responsive to your school's unique goals.
Here's a glimpse of what's on the other end of the exploration the Toolkit guides its users through in the context of education: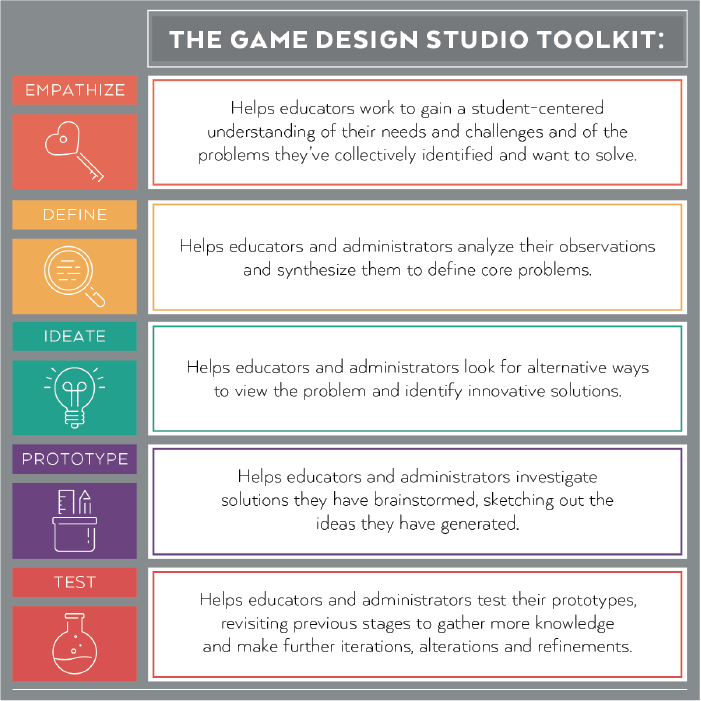 Interested in using game design to support design thinking and program development in your school community? Contact us to explore facilitation options crafted to help educators and administrators co-design youth-centered solutions with their students.