Category:
Self-Awareness: Nurture It in Your Students with This SEL Exercise on Values
There is power in naming your values and holding yourself accountable to them. Here's a brief SEL activity to help your high school students reflect on their values and the ways they embody them.
Last summer, in iThrive's statement in response to the killing of George Floyd, we revisited our values and made commitments to ensuring that everything we put into the world upholds justice and serves humanity. Over the course of this year we'll be sharing our progress, to hold ourselves accountable for continuing to take action toward being an anti-racist organization.
One of our commitments was to "continue our education on anti-racism and our journey toward becoming an anti-racist organization." One way we have continued that journey is to refresh our organizational values to be sure they reflect our commitments. We now have a shared, documented guidepost for our interactions with each other and with our collaborators. This same guidepost also informs our English Language Arts curricular units and our civics-based role-playing simulations and curricular surrounds, ensuring that they invite students into these same themes. Here are iThrive's values:
Whole Self:

I am welcome to bring my full humanity and my gifts to work in service of collaborating and helping iThrive meet its mission. And I honor the full humanity and gifts of my colleagues. 
Connection:

I foster personal and professional relationships with colleagues and collaborators, which supports iThrive in creating offerings that center relationships as well.
Joy:

I make time to weave authentic joy, appreciation, celebration, and play into my workday and into iThrive's offerings.  
Communication:

I communicate honestly and transparently in service of fostering collaboration, maintaining good relationships, and keeping the organization running smoothly. 
Integrity:

I embody wholeness by acting ethically and in alignment with our values in my work and my interactions. 
Diversity and Inclusion:

I work to understand, be curious about, and center a variety of perspectives and experiences in my interactions on the team and my contributions to iThrive's offerings. I contribute to an anti-racist lens at iThrive. 
Commitment to Learning:

I approach work and interactions with the acknowledgment that I always have more to learn about myself, my colleagues, our work, and the world. I use curiosity to support a focus on growth rather than being right. 
Impact-driven Innovation:

I use design thinking to fully understand problems and help to create real solutions that make a difference and foster transformational impact for teens.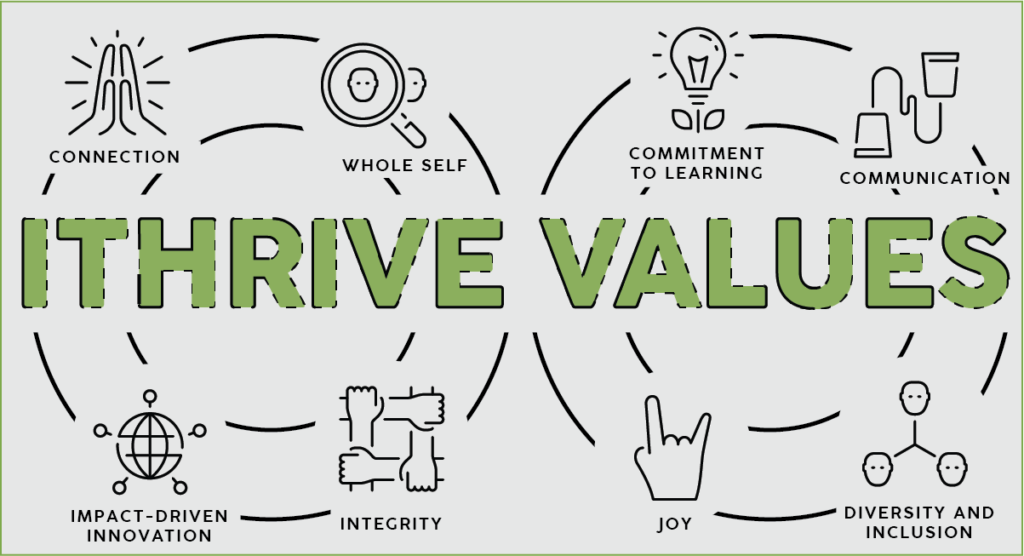 We hope this transparency is helpful in letting our stakeholders know what we are about and what's important to us. There's power in naming your values and holding yourself accountable to them. Here's a discussion prompt to help your high school students reflect on their values and the ways they embody them.
Imagine your best day, when everything is clicking. Imagine your interactions with others, how you feel inside, how you're connecting with others, how you're contributing to the world around you. Picture this day with detail...what are you wearing? Who do you see? What are your surroundings? Stay with this image until it feels very real. 

Once you have the feeling, write down the elements that were a part of the day. What went into making it your best day? How did you show up? How did you show up for your community? How were you in relationships? In what ways did you make good choices or decisions? What beliefs or principles allowed that day to be as good as it was? Write these down, whether they are a sentence or a paragraph.

Set a timer for 60 seconds and take a few breaths, just being present with how you feel. When the timer goes off, take a second look at the list and ask yourself what might be missing. Take a few moments to add that.  Reflect on whether you'd be willing to show up this way even when circumstances are not ideal.

Now craft a short definition for each of the themes or values. Keep it short and simple so you can use it as a touchstone.

Keep this for yourself or find a partner and share a bit about your best day. 
Let us know how this tool works with your students. We are happy to create English Language Arts and Social Studies resources that help these values become a reality. Sign up for our newsletter to learn more about our offerings.