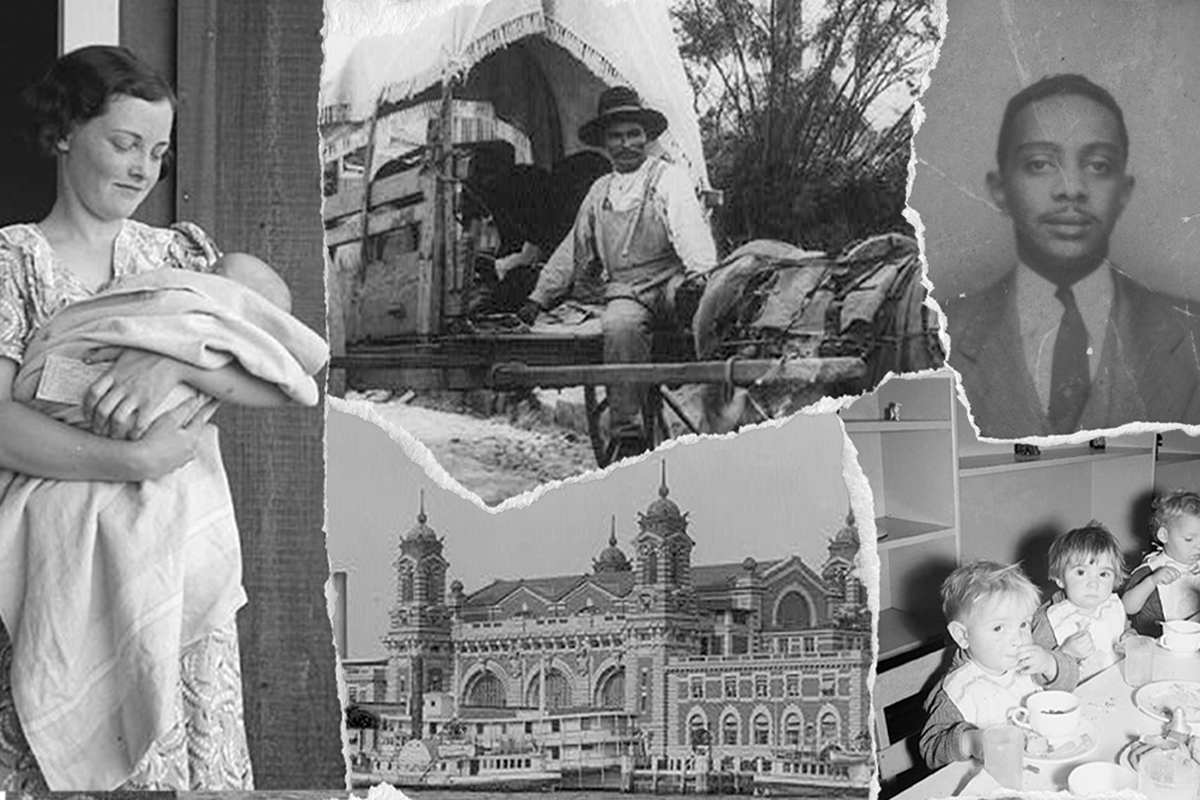 Category:
Stories Add Heart to History. This Project Uses Them to Teach About Migration.
Moving Stories is a teacher-led project seeking to create peak learning experiences that inject awe, inquiry, nuance, and play into how migration is taught in HS history classes.
This summer, iThrive Games, Ronald Reagan Presidential Library and Museum, Re-imagining Migration, Got History, and the Herbert Hoover Presidential Library and Museum invited educators to collaborate on Moving Stories: From Personal to Policy, a project sparked by a desire to support teachers in facilitating challenging conversations with students around topics and events in history. 
The north star of the collaboration was three-fold: 
To model co-creation of learning experiences that are inspiring and help students not only learn about a historical moment but also connect more deeply with their own identity, realize the connection of personal story to policy, and take away a new commitment to/plan for advancing justice through civic engagement.

To create model learning experiences that can help shift the historical teaching paradigm away from single-narrative content-sharing to a place- and document-based democratic pedagogy that incorporates inquiry, awe, and play to achieve deep learning on core ethical, civic, and historical concepts.

To expand the networks and communities of practice of some amazing educators looking for cutting-edge ways to engage students.
Over the course of the four days, participants dove into primary source materials, co-created lesson plans, and had the opportunity to listen deeply to and learn from each other about how the topic of migration touches their personal lives and family stories. 
"Migration is a theme that connects all of humanity, and that was obvious in hearing the stories of each individual who made up this learning community," said Michelle Bertoli, Senior Director of Learning at iThrive Games. "It was amazing to see everyone's unique perspective and teaching/content expertise blend into cohesive peak learning experiences, with embedded social and emotional learning opportunities, that I feel confident will engage teachers and students in new and deeper ways of teaching and learning." 
The endeavor was not without challenges, such as finding ways to approach and meaningfully use primary sources with often an abundance of language that is now considered outdated, offensive, and exclusionary. One member of the learning community challenged the group to make sure they were not promoting "learning at the expense of someone else's trauma." With migration as a sensitive topic that's intimately tied to themes of othering, marginalization, xenophobia, oppression, and violence, participants contended with questions such as "How do we approach this critical topic in a way that invites rather than shuts down emotional engagement, for whom, and to what end?"
Participants also discussed the tension between historical sources that are in themselves "neutral" and the very real experience that reading them can cause deep pain, anger, and even feelings of shame for people who belong to and identify with groups who have historically been marginalized. 
These tensions highlight the need for social and emotional skill-building to be embedded within the learning experience. 
"Both self and social awareness, especially as they relate to refining identity and building empathy, were central throughout this process," said Bertoli. "Coming to the awareness that migration touches and connects us all and that even that common experience can play out so differently for people across backgrounds and contexts was a key theme of the workshop."  
Ultimately, the educational materials created are meant to serve teens in engaging more deeply with history so they can play a role in charting a new path forward.
"The activities we participated in and created made history feel alive, relevant, and emotional in a way that I have rarely experienced," said Bertoli. "I believe teens will truly come to the table for this type of experience: one where their personal, emotional, and familial connection to topics in history is not just included but actively highlighted and centered in the service of deep engagement, social and emotional development, and motivation to act justly in the present. I think these resources will invite those teens who avoid or merely "put up with" learning history to think and feel differently about engaging with and applying it."
The next steps for this project include refining the materials before sharing them more broadly and building on the co-creative process the group engaged in. For participants, moving the work forward remains essential. 
"Migration is essential to our shared social and economic future," said Adam Strom, Executive Director, Re-Imagining Migration.  "Yet, approaches to migration in schools are often fragmented or incomplete. As educators, we need to be laser-focused on developing the knowledge, skills, and habits that will prepare the next generation to work and live with people whose cultures, experiences, identities, and accents will increasingly be different from their own. Programs like this one are essential because they build understanding and support for reimagining the way we talk and teach about these foundational experiences."

Stay updated with our work co-designing learning experiences with history and social studies teachers by subscribing to our monthly newsletter!