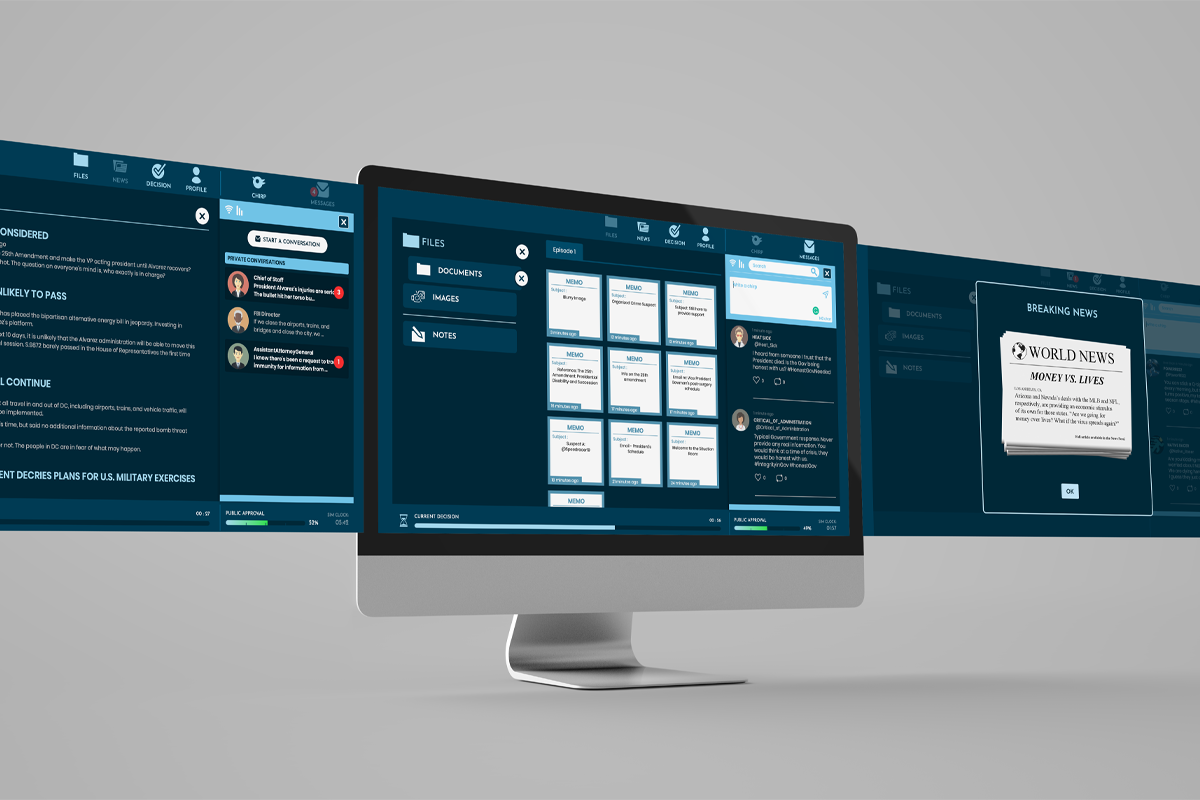 Category:
High School Teachers, Share Your Feedback on the New, Improved iThrive Sim
The new and improved iThrive Sim gives high school educators the tools to tailor the play-powered civic learning experience to meet their students' needs.
iThrive Sim, designed to support high school educators in providing a deep civics learning experience role play through the lens of social-emotional learning, will soon be ready for teachers to facilitate! Since its debut, iThrive staff have facilitated the learning experience. We heard that educators want to be in the drivers' seat, running the simulations in a way that responds to their needs. We listened and are developing a new teacher-friendly interface for our three iThrive Sim scenarios that allows educators to run their own simulations in their in-person, virtual, or hybrid classroom.
Are you new to using iThrive Sim with your students? Each game merges online gameplay, immersive tech, and a content-rich storyline to engage HS students in a unique civic learning experience where they step into the role of leaders to make high-stakes decisions that impact the communities they represent. The new, self-guided versions of our iThrive Sim games are a great way to bring play, civics, and social-emotional learning to your high school classroom. Experience the best of our games, with the added benefits of being in the drivers' seat:
Logistical Flexibility. Need an activity to engage your high school students on the spot? Want to run a simulation over multiple class periods? With self-facilitation for an iThrive Sim scenario, you'll have as much flexibility as you need. No need to schedule your classroom's Sim with a facilitator. 
Customize Roles and Groups.

You know your students best. Think a particular student would benefit from a challenge? Or do you have students that are extra competitive or reserved? With you as the facilitator, you will have a full range of assigning roles and groups to meet your high school students' needs best. Place them where you know they will thrive and have the best experience possible. 

Engage with Your Students:

Good facilitating fosters authentic engagement. When you know you're leading the discussion, you'll naturally be more engaged throughout the entire simulation and your high school students will too.

Continued Support:

Self-facilitating an

iThrive Sim

scenario does not mean you'll be totally on your own. When you sign up, you'll receive resources, checklists, prep materials, accompanying lesson plans and more, to support you in running a successful Sim for your class of high school students. Plus,

our team is just an email away

; we're always happy to answer any questions and provide technical support.

Tie the Sim to Other Lessons: When you're in the driver's seat of an iThrive Sim scenario, you can easily reference previous lessons you've completed when relevant to the discussion and student experiences. In turn, you can challenge your high school students to draw more connections between content, resulting in a holistic learning experience. 
Interested in using an iThrive Sim scenario in your high school classroom?
We're looking for high school educators who can pilot our new self-guided version of iThrive Sim, and give us feedback on the new teacher-friendly interface and process. We know you're busy, so we are paying $100.00 for your time.  The pilot program will include:
Sign up below and we'll be in touch to get you and your high school students set up to play!