CREATED WITH AND FOR THE RONALD REAGAN PRESIDENTIAL LIBRARY AND MUSEUM
SERVICES: GAME DESIGN, LEARNING EXPERIENCE DESIGN (LXD), UX RESEARCH
FUNDERS: NATIONAL ENDOWMENT FOR THE HUMANITIES (NEH)
COLLABORATORS: AFFORDANCE STUDIO, CUDZU CREATIVE

With funding through the
National Endowment for the Humanities (NEH) CARES
Grant program,
Lives in Balance
was designed by iThrive Games and the masterminds behind the Situation Room Experience at the Ronald Reagan Presidential Library and Museum. The multiplayer, tech-powered simulation game launched in 2020 as one of three simulation games designed to support impactful civic learning in teens. Hosted on the
iThrive Sim
platform,
Lives in Balance
invites teens to act as government officials who must make individual and group decisions during a fictional pandemic. The game prompts players to explore the limits of federalism and state rights as they activate and nurture their social and emotional skills, collaborate, strategize, and wrestle with the tension between reopening the economy and following health guidelines. 
In addition to designing the game, iThrive also headed the development of accompanying C3-standards aligned lesson plans and social and emotional learning activities to support a comprehensive and impactful learning experience.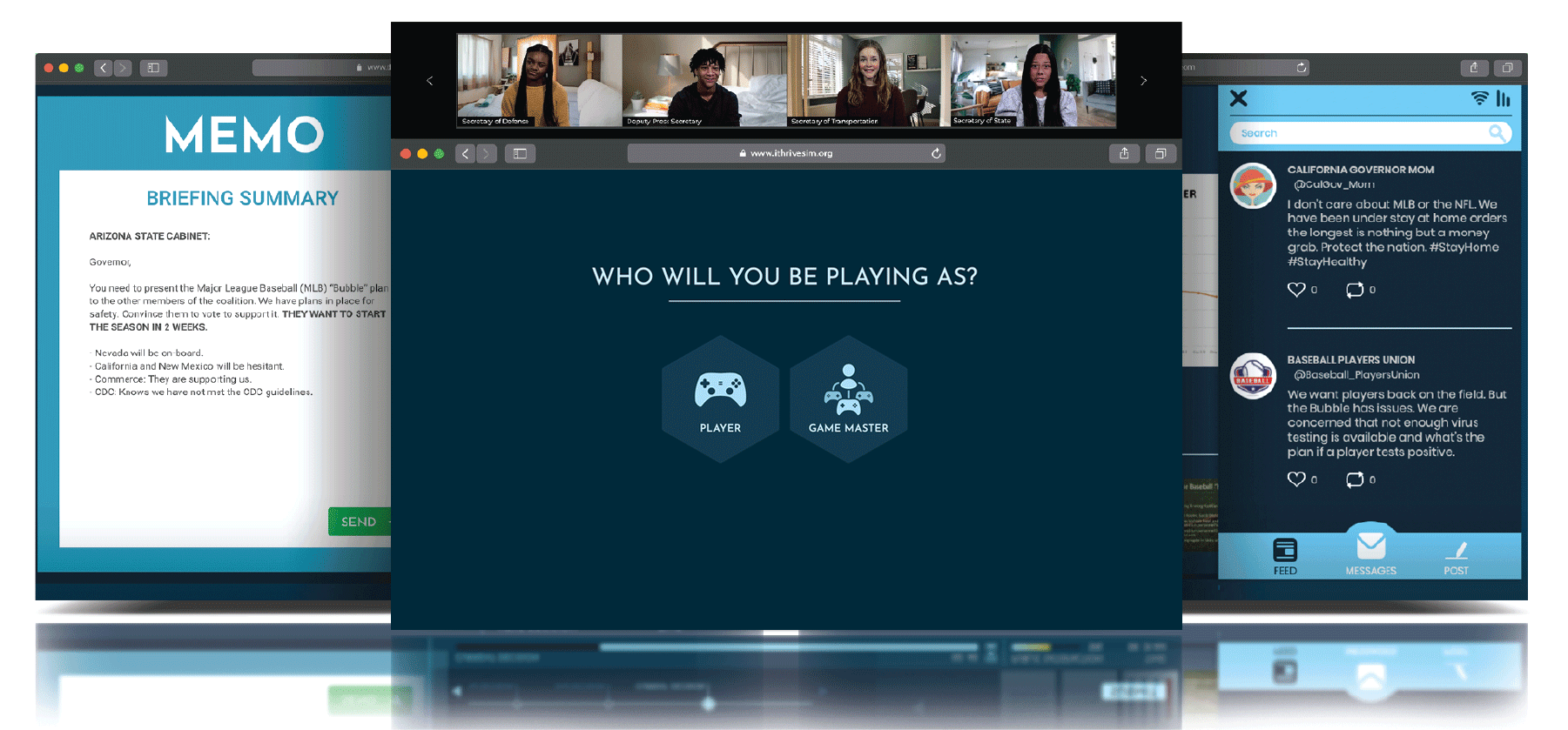 "

I really enjoyed debating with my friends and classmates and I overall love simulation games like this one about an actual crisis happening right now." 

"The part of the game that I enjoyed the most was being able to be part of it with my friends and learning different tactics while solving an issue in our world."
"The group work is brilliant. They are having a total blast. It's total chaos. In a good way." 

2022 International Serious Play Award, Gold, K-12 Education
2021 GLAMi Awards, Bronze, Interactive and Immersive
2021 Muse Awards, Gold, 2020 Response
"When we created
Lives in Balance
, we sought to meet the tremendous demand for robust interactive learning experiences, especially during this global pandemic. And we are pleased to be able to offer this scenario and others as we head into the new school year to support learning in various settings."
—
MIRA COHEN
, FORMER DIRECTOR OF EDUCATION AT THE RONALD REAGAN PRESIDENTIAL LIBRARY AND MUSEUM