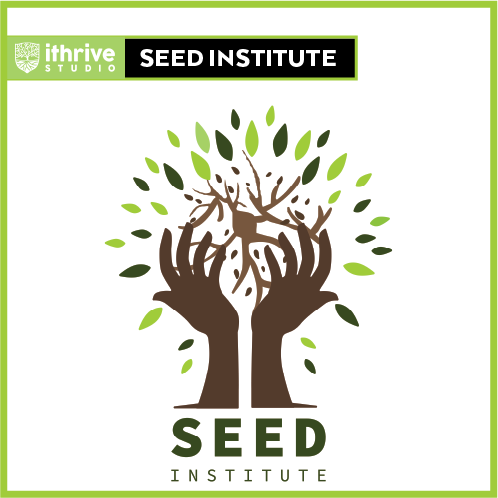 SERVICES: PROGRAM PLANNING
FUNDERS: W.T. GRANT FOUNDATION, MASSACHUSETTS COMMUNITY EMPOWERMENT GRANT
COLLABORATORS: BMA TENPOINT ALLIANCE, TRANSITION HOPE

The SEED Institute was a collaborative program designed by iThrive Games, Transition HOPE, and BMA TenPoint Alliance, where youth with lived experiences at the intersection of inequitable systems created games that conveyed their experiences in it and communicated their solutions for disrupting it. Youth designers at the Institute called themselves SEEDs—System Educated Expert Disruptors. In the program, SEED Designers received training and mentorship from iThrive staff to support them in synthesizing their stories in structured games that skillfully engaged players in recognizing the harm they have experienced and fostered constructive conversations about systems change. Throughout the program, they used game design techniques to build social and emotional skills, their design fluency, and their systems thinking to recognize inequity, and imagine and design a better world.


"

Every time we did a board game or started brainstorming, she's like, "Okay, what do you guys want people to know? What is your main goal? Who do you want it to reach out to? You want it to be kids? Teachers? What do you want to happen?" And I enjoy it. I do, I enjoy our talks, and I enjoy creating together."— Program Participant
"I know I have a voice. Maybe before I didn't see it as strong as I did now, but it's like I said, I don't know. I get put in a different mindset when I have to help somebody else. And this isn't having to, this is wanting to now. You know what I mean? I want to help." — Program Participant
"These aren't external interventions that people helicopter in and then sort of dump on the community. These are homegrown. These are organic. These are interventions that help people build the resiliency within themselves to be able to make the change that they want to make. All of that, that engagement, that passion, that drive to make something effective and creative, that is inspirational."
—

DAVID WRIGHT

, BMA TEN POINT ALLIANCE
"We can read about things, we can write about things, we can have all of these academic languages we use, but if we're not connecting it with the personal, then it really makes it challenging to actually do the work that we want to do. That's the work of the SEED Institute. We're actually using the youth who've gone through the justice system to inform us of what the policies need to look like and where the changes need to be made."
—

JANELLE RIDLEY

, TRANSITION HOPE