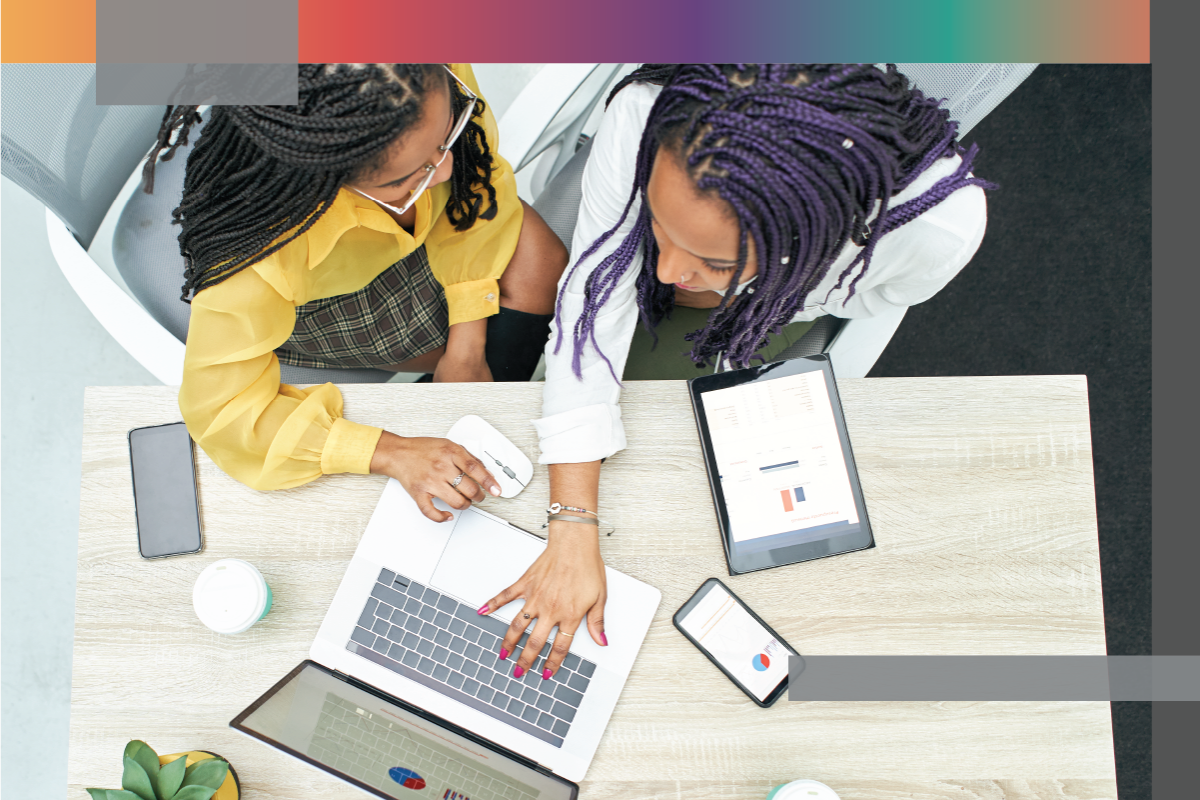 Category:
Your Workforce Development Program Needs This Crucial Component
There is a documented need and demand for social and emotional skills in the workplace. How is your workforce development program responding to it?
Today's workforce development programs crafted for adults and young people draw their directive from the everpresent skills gap in the U.S.'s ever-evolving labor force.
Seeking to sustain a pipeline of talent for the estimated 165.4 million jobs that will exist by 2030, these programs enlist an array of approaches that address the mismatch between the abilities employers want in a candidate and those that job seekers possess. Creating pathways for high-attrition sectors with growing needs at a time of unseen technological sophistication has brought forth programmatic focuses on industry-specific and technical skill-building. 
Lacking in emphasis are the social and emotional skills vital to any collaborative setting. And all jobs are collaborative when they encompass human interaction. Be it a high-tech, low-tech, or no-tech job, having a growth mindset, the ability to work collaboratively, responsibly, constructively, adaptively, and empathically, and the competence to manage stress and regulate emotions is remarkably valuable.
These essential skills are powered by social and emotional learning (SEL). SEL, defined by the Collaborative for Academic, Social, and Emotional Learning (CASEL), is "the process through which all young people and adults acquire and apply the knowledge, skills, and attitudes to develop healthy identities, manage emotions and achieve personal and collective goals, feel and show empathy for others, establish and maintain supportive relationships, and make responsible and caring decisions." SEL needs to be folded into workforce development programs, especially those designed for young people, to enhance the resilience and capacity of tomorrow's problem solvers, communicators, and critical thinkers, arming them with the tools to show up in the workplace productively in a human-centered way.
THE SOCIAL AND EMOTIONAL SKILL GAP IN THE U.S. WORKFORCE
A wealth of data exists that builds the case for integrating social and emotional learning in workforce development programs preparing candidates for the demands of today's world and tomorrow's.
WHAT EMPLOYERS SAY, WANT, AND VALUE
A recent Zety survey of 200 hiring managers revealed that 61 percent of people in recruiting positions view transferable social and emotional skills as more important than technical ones in the U.S. workforce, ranking teamwork, emotional awareness, decision-making, and stress management amongst the top 10. A 2018 McKinsey Global Institute discussion paper affirms too that social and emotional skills are becoming more crucial as artificial intelligence takes over more physical, repetitive, and basic cognitive tasks, reporting that the top three missing in automated industries are problem-solving or critical thinking, the ability to deal with complexity and ambiguity, and communication skills. [1]
'THE TALENT MISMATCH'
Research not only shows that employers view the skills acquired through social and emotional learning as necessary for employability, but it also shows they face a real challenge in finding job candidates that possess them. A report shared by the Association for Career and Technical Education (ACTE), the National Association of State Directors of Career Technical Education (CTE) Consortium, and the Partnership for 21st Century Skills (P21) reported that 31 percent of employers in the U.S. and globally find it hard to recruit qualified workers because of "a talent mismatch between workers' qualifications and the combinations of skills employers want." [2] In the manufacturing industry, for example, while prospects have the necessary technical skills, problem-solving is the number one skill deficiency employers report. [3]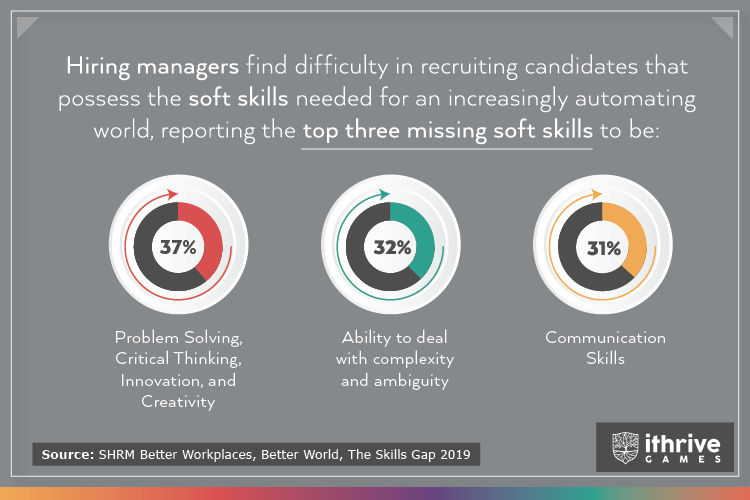 Responding to the current demand for social and emotional skills, multiple workforce development frameworks recommend that employers support their employees with lifelong learning and training opportunities. To build a workforce for the future, these approaches also call for sustained efforts and initiatives to strengthen youth's employability and work readiness that reflects the behavioral and technical skills valued both in the workplace and society. When delivered in a way that accounts for how young people learn, social and emotional learning is the lever through which this meaningful preparation of youth happens.
INTEGRATING SOCIAL AND EMOTIONAL LEARNING INTO YOUR YOUTH WORKFORCE DEVELOPMENT PROGRAM
Our work with teens and young adults over the last five years at iThrive Games gives us the honor to witness their genius firsthand and join our wisdom with theirs to bring a deep understanding of what youth need and want to programs, initiatives, and products aiming to support them meaningfully. Our team's expertise in adolescent development and learning, along with our co-designing approach, has effectively made the result of every design challenge our partners present us with into a wellness-supporting tool or experience for young people.
WHAT THE SCIENCE OF ADOLESCENCE SAYS
Integrating social and emotional learning into workforce development programs geared to engage youth makes those vital career readiness initiatives wellness-supporting ones too. Brain science shows that young people are neurologically wired for lifelong learning and are shaped by the experiences they are connected to. [4] Presenting them with meaningful experiences allows teens and young adults to experiment, build vital social and emotional competencies, and develop a growth mindset that is psychologically nurturing and supportive of the emotional intelligence needed to thrive in all collaborative spaces, including the workplace.
HOW TO ADD SEL TO YOUR YOUTH CAREER READINESS OR WORKFORCE DEVELOPMENT PROGRAM
For anyone looking to cultivate career readiness for youth that accounts for the importance of emotional intelligence in the workplace, here are three evidence-based and expert-informed tips on how to integrate social and emotional learning in a youth job training and workforce development program, proven to support youth meaningfully:
MAKE IT A COMMON PRACTICE TO DELIBERATELY MODEL SOCIAL AND EMOTIONAL SKILLS, BEHAVIORS, AND ATTITUDES.
Demonstrating and modeling bodily awareness helps young people build their skills for recognizing and naming emotions, which is critical to being able to manage them, and supports their comfort in displaying and communicating them with others. "Being able to name emotions with specificity, especially unpleasant ones, actually helps to lessen their intensity," shares iThrive's Dr. Susan Rivers. "When the adults in young people's lives work to expand their own emotional vocabulary and share with youth how emotions show up in their lives, they create a transformative precedent. Being fulfilled requires being aware of our emotions, and not knowing how to label feelings as they arise can create feelings of shame, and unexpressed shame can be incredibly destructive." 
INTEGRATE RESTORATIVE PRACTICES THROUGHOUT YOUR WORKFORCE DEVELOPMENT PROGRAM.
Restorative practices outlined by organizations like the Center for Restorative Process and the National Education Association (NEA) align with the aims of social and emotional learning by helping to create an intentional setting that allows teens to build familiarity with the behaviors, skills, and norms of engagement most conducive to community-building and collective thriving.
CREATE OPPORTUNITIES FOR PLAYFUL EXPERIENCES THAT DYNAMICALLY ENGAGE YOUTH (AND ADULTS). 
Despite the heat that video games get, it has been proven that teens learn best through play—a tool they know well. "Playfulness allows for a deliberate shift into curiosity and readiness to learn and engage with others and with new knowledge," says Dr. Susan Rivers. "We approach play with an open mind and often with anticipatory joy, this reduces  some of the pressure to perform and impress." In these spaces, young people are free to try on different ways of thinking, relating, and interacting with each other and the world, expanding their flexibility and repertoire of skills for navigating the real world. Our iThrive Sim role-playing simulation games, for example, offer a playful addition to any youth program seeking to support teens in strengthening their capacity to make responsible decisions, disagree constructively, analyze problems, and solve wicked and complex challenges.
Social and emotional learning is an always practice that has a permanent place in a world where relational work exists. Integrating it as a component of workforce development programs, especially career readiness ones developed for young people, favors a holistic approach that not only aligns with cross-sector demand but also accelerates progress toward a world where all have the tools and opportunities to live full, healthy, safe, and purposeful lives.
LOOKING FOR MORE INSIGHTS AND TOOLS TO HELP ENRICH YOUR WORKFORCE DEVELOPMENT PROGRAM?
Join in on the knowledge-building and knowledge-sharing at the 2023 ASU+GSV Summit on Tuesday, April 18, from 2:30 to 3:10 pm PT for Skills for Tomorrow's Careers, an insightful and interactive panel discussion on youth career readiness featuring Next Gen HQ's Dylan Gambarella, iThrive's Susan Rivers, America Succeeds' Stephanie Short and Data Science 4 Everyone's Zarek Drozda and moderated by Skillsline's Courtney Reilly. In the meantime, join our Designing for Teen Thriving mailing list for free resources and tips on how to design meaningful youth programs, products, and experiences informed by the science of adolescence.
References:
[1] McKinsey Global Institute, Skills Shift Automation and the Future of the Workforce (May 2018)
[2] Association for Career and Technical Education, National Association of State Directors of Career Technical Education Consortium, & Partnership for 21st Century Skills. (2010). Up to the challenge: The role of career and technical education and 21st century skills in college and career readiness.
[3] Committee for Children, Why Social and Emotional Learning and Employability Skills Should Be Prioritized in Education. 
[4] Matthias J Gruber, Yana Fandakova. Curiosity in childhood and adolescence — what can we learn from the brain. https://doi.org/10.1016/j.cobeha.2021.03.031.