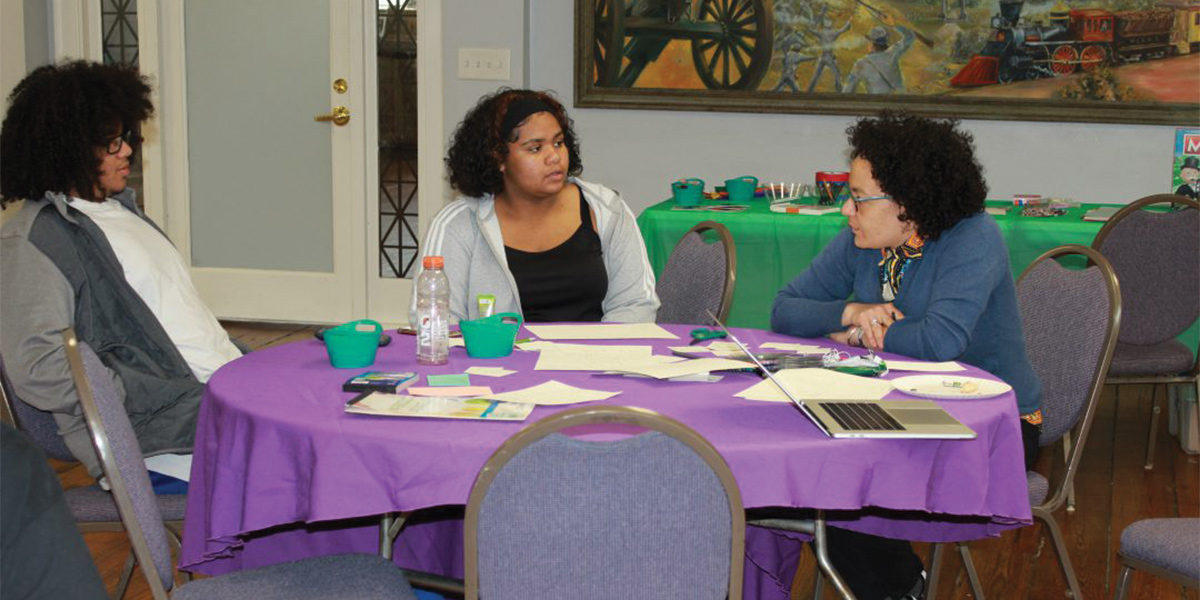 Category:
Atlanta Teens Use Game Design Studio to Explore Injustice in Schools
We partnered with Stronger Together, a Georgia-based coalition of youth and adults committed to racial justice in Atlanta schools, to offer Game Design Studio with the support of the Marietta Museum of History. Here's what happened.
In February, iThrive Games partnered with Stronger Together, a Georgia-based coalition of youth and adults committed to racial justice in Atlanta schools, to offer Game Design Studio with the support of the Marietta Museum of History.
Black students still report facing shocking levels of discrimination at school, and games provide a unique framework for teens to break down why it happens, express what it means to them, and invite adults to interact in a new way with reflections about how teens need to be supported.
Eight Black middle and high school students who attend Atlanta schools came together at the museum for three days over their winter break to design games that would offer a window into their perspectives on the injustice that impacts them on a daily basis.
Tracing Experiences in Atlanta Schools: Surfacing, Coping, Acting
Each instance of Game Design Studio uses a "Surfacing-Coping-Acting" co-design cycle. The goal of this approach is to invite teens to raise up (surface) and work productively (cope and act) with the experiences that make adolescence both an incredible and vulnerable developmental stage. In this particular Game Design Studio, here's how these components played out.
Surfacing
Teens were joined on the first day of the workshop by elders in the community for an intergenerational conversation to explore and observe how race and racism have manifested in the local region across eras, from segregated Atlanta schools to hate speech on Twitter.
Teens further explored the history of race and racism in their region through a gallery walk featuring a special museum exhibit highlighting photographs of important moments in Marietta's Black residents' history.
As teens surfaced the ways that race and racism manifested in their community over time and in Atlanta schools, iThrive facilitators led a brainstorming session around the prompt, "What do your teachers need to know about race and racism?" From there, teens collectively settled on three themes to inspire the design of their games, each relating to what they'd like to see in Atlanta schools:
Race should be taught in-depth
The voices of Black teens need to be heard
Power: who has it, and who gets hurt?
Coping
Game Design Studio offers a way for teens to connect through play as a vehicle for reaching deeper social connection, understanding, and self-awareness. Telling our difficult stories to others is one proven way to manage the discomfort and to challenge any fears that we're weird, different, or alone in our struggles.
As teens described their experiences with racism, listened to one another, and played games together like Jenga and The Mind, they bonded over common threads in their stories, learned about and drew parallels between game mechanics and real-life interactions, formed working teams with friends old and new, and got ready to create their own designs.
Acting
The power of Game Design Studio is that it's not just about discussing issues teens face, it's about working through those challenges creatively with other people; something that is never wholly without tension.
As the teens played together and collaborated on games in teams, they inevitably encountered and worked through conflict in ways that helped them to identify their own and others' strengths and capacity for resilience.
In this Studio session, teens had, and seized, opportunities to advocate for themselves, to disagree, to compromise, and to make amends; all social and emotional skills that underpin success and well-being in the long-term.
Here's what teens made:
The Society Game
This delightfully complex game about power in our society has players vying for a coveted spot at the top of the pyramid, reserved for "the elite." But getting there is nearly impossible, and losing status is easy to do.
Black Trivia
Two teams made games that honor teens' insight that Black history and culture need to be integrated meaningfully into the fabric of the schools that serve them. In Black Trivia, answer a question about an illustrious figure in the Black community correctly to move ahead and claim your reward: more trivia tidbits! In The Matching Game, test your knowledge of famous Black figures and challenge your memory as you strive to match over 50 notable people with their achievements.
Even & Odd
This game has two paths to the finish, but they're far from equal. Roll an even number and you start out on the track where resources come easily and penalties are light; roll an odd number and your "luck" looks very different. Prepare to get passed over for a job interview for which you were qualified or evicted from your apartment. But just as you're getting used to your privilege, or lack thereof, you might draw the card that forces you to switch tracks. What does life look like from this new point of view?
Learning Together
Designing with teens in Game Design Studio enriches all who participate, teens and facilitators alike. We as adults show up prepared to listen and to offer what we know about why things are the way they are, and we work alongside teens as their reflections and interactions spark new ways of thinking about and coping with the challenges they face. Making games together is a powerful and creative way for teens to exercise and refine social and emotional skills while concretizing their unique experiences, and we are lucky to be in partnership with teens in this generative space.
Stronger Together will highlight the games created during this Game Design Studio at an upcoming community celebration, also to be held at the Marietta Museum of History.