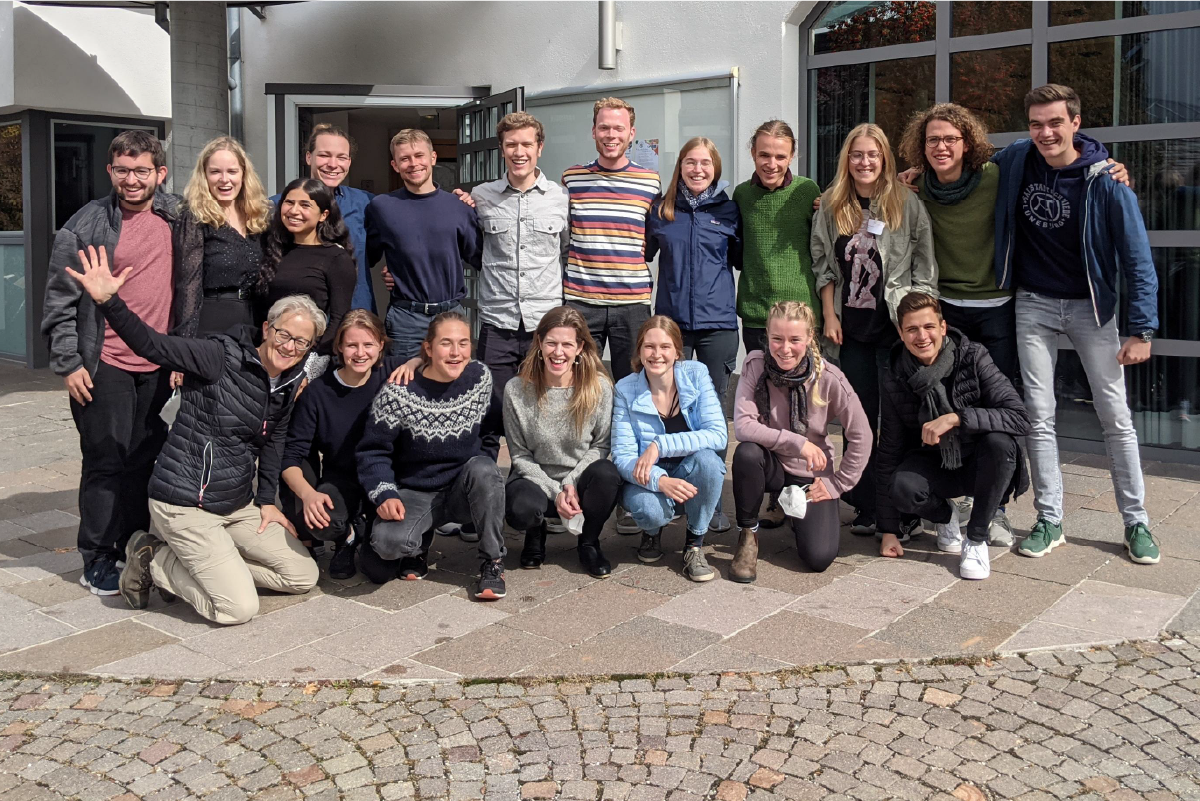 Category:
Game Design for International Relations: iThrive Studio in Olang, Italy
iThrive's Susan Rivers, Ph.D. and History Co:Lab's Fernande Raine, Ph.D., joined 20 university students in Olang, Italy last month for a powerful exploration of international relations through the lens of game design.
Nestled amidst the beauty of northern Italy is Olang, a predominately German-speaking comune (or municipality) home to less than 5,000 people. In September, iThrive's Executive Director and Chief Scientist Susan Rivers, PhD, joined forces with History Co:Lab founder Fernande Raine, PhD, for an iThrive Studio hosted as part of the Summer Academy for university students hosted by Studienstiftung des deutschen Volkes. Amongst the over 100 students attending the Academy, 20 participated in the two-week experience, creating five game prototypes, each reflective of international relations and social issues that matter to them.
History Co:Lab and iThrive Games' shared belief in the genius of young people and their creative potential to build and imagine a better world surfaced in the discussions and interactive activities that colored each day of the summer program. History Co:Lab, an incubator for systems change and of youth-led media products that bring history to life, prompts young people to engage constructively with the past and use it as a springboard for independent thinking, mapping purpose, and activating change-making. 
"From the work I do across the globe, I know young people are committed and ready to take action on the challenges and opportunities of today and tomorrow," shares Fernande. "But they need to deeply learn history; history is the foundation, guide, and inspiration for imagining a better world. Centering play is essential to create conditions for the transformative learning that young people crave."
Play is central to the iThrive Studio model. In partnership with schools, universities, and youth-serving organizations, iThrive Studios uniquely challenge and nurture the genius of young people, strengthening cognitive, social, and emotional skills vital to their thriving through collaborative game development. With them, we invite teens and young adults to unpack challenges, construct solutions with their peers, create and test games that reflect those solutions, and ignite social change.
What transpired in Olang was a testament to both organizations' commitment to supporting the thriving of young people through experiential learning. In the first week, students led discussions from the syllabus Fernande, a social entrepreneur and historian, curated to explore themes vital to international relations and the work of sustainable world-building. On Monday, students explored state power, new and old, examining how factors like technology and military capability influence it. On Tuesday, they reflected on the alchemy of peace, unpacking the parts, values, and vision that could advance it. The rest of the week saw rich discussions where students defined community and the economic models and systems, real and envisioned, that can help or hinder it.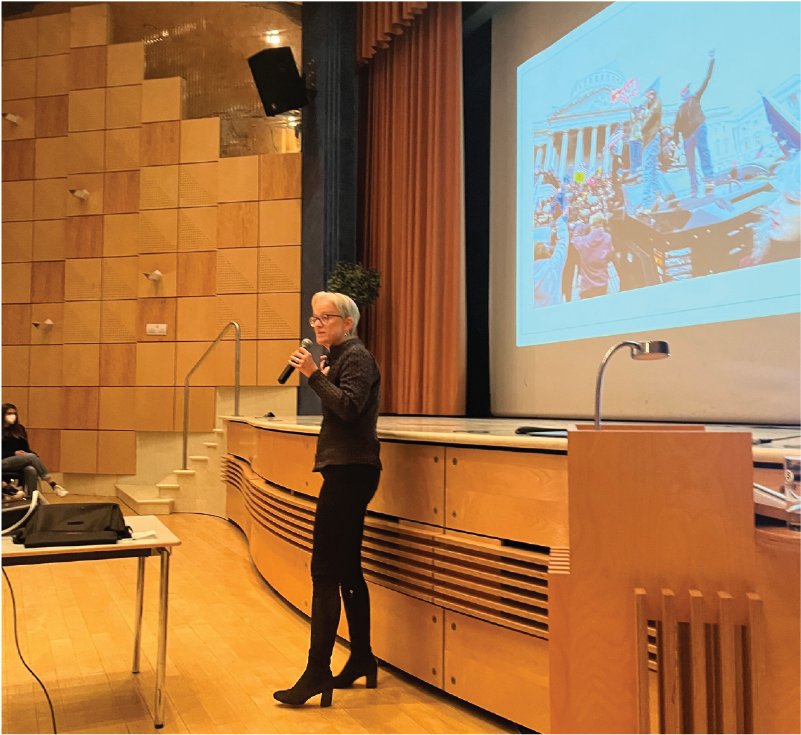 Weaver, historian, and founder of History Co: Lab, Fernande Raine, PhD, at Studienstiftung des deutschen Volkes.
In the second week, Susan facilitated iThrive Studio sessions that immersed students in systems and design thinking working with the content they covered in the first week. The game design workshops invited them to meaningfully reflect on the world they live in and envision the world they want to create, all while discovering and affirming the strengths they have and can use with others to make that world real. The game prototypes that students created as part of iThrive Studio: Olang addressed real-world challenges, including climate change, an international issue, amid conflicting state agendas and the crafty "tricks" used in disinformation spread. The prototypes also explored the power of voice and public speaking, the rules and dynamics of political negotiation, and the connectedness of themes across moments in history.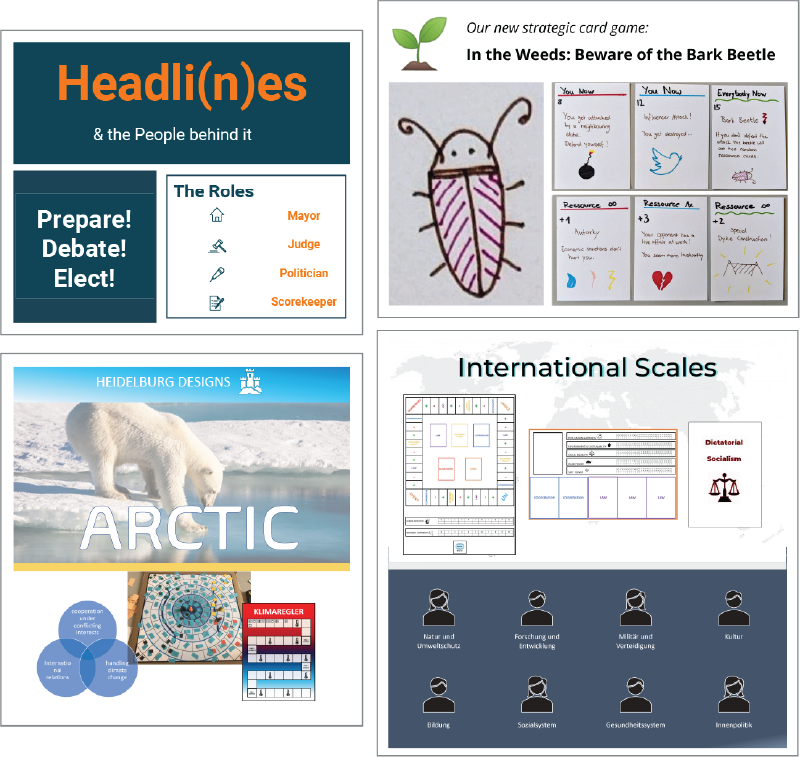 Game pitches presented by students at the Summer Academy, hosted by Studienstiftung des deutschen Volkes.
When asked about the most exciting part of the experience, students shared that it was their unique introduction to game design and a newfound grasp on what play can evoke in minds and in the world. In completing their first game design project using iThrive's approach, students gained a new understanding of "[the] connection between theoretical international relations and the implications for a game," "[the] psychological effects of games," "[how] emotions help to learn," and "how to introduce complex concepts in a playful way."
"There's an incredible richness in what young people can learn and uncover from playing and designing games," shares iThrive's Susan Rivers. "iThrive Studio nourishes the magnificence they already possess by sharpening their creative problem-solving skills and supporting their ability to be in the world with curiosity and empathy."
Students left iThrive Studio: Olang motivated and inspired by the opportunity to work fully in their genius, thinking critically about how we design communities that care for self, others, and the planet, and voicing their perspectives on the systems that affect them. The connection-building and social and emotional learning fostered in this uniquely generative space invoked lasting knowledge each designer could take into the real world. Summed up perfectly by the students, "making a game takes creativity and openness,"..."my biggest takeaway from this experience is to follow the creative impulses, dare more, and think outside of the box."