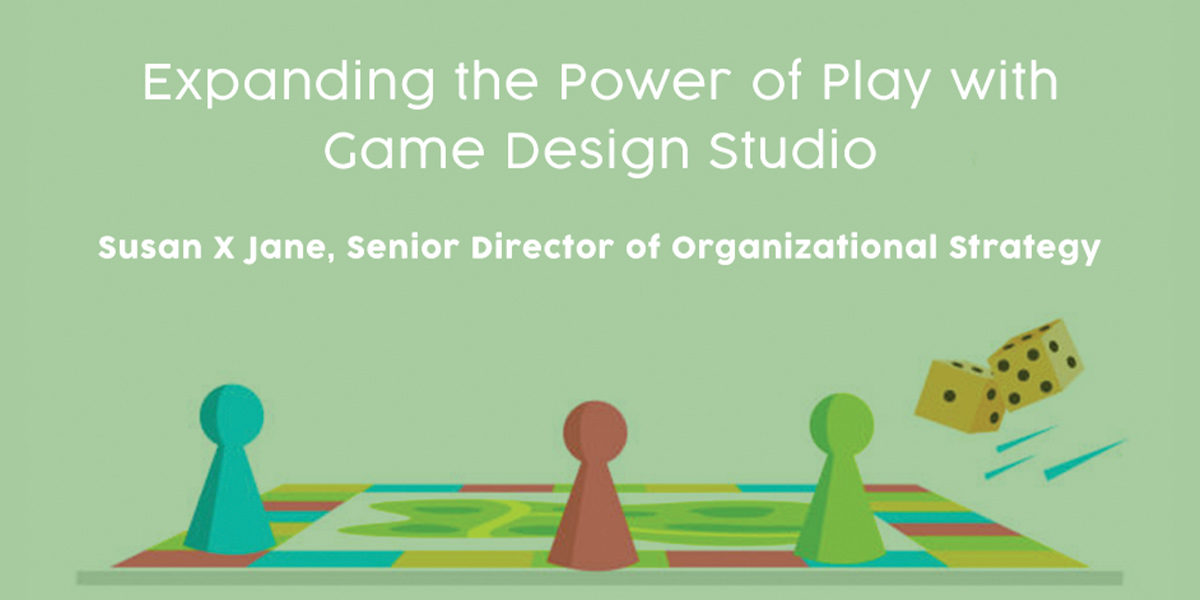 Category:
Expanding the Power of Play with Game Design Studio
We know games create experiential space for teens to explore, test, try, fail, and learn together. Our Game Design Studio is grounded in this truth.
This article is the last in a series of posts that explore iThrive's Game Design Studio approach, which staff will be sharing in a presentation called Teens as Changemakers at SXSW EDU on March 9th. You can read the first article here and the second one here.
Play is a serious business: we know that games are a rich space for learning about the world and developing skills. From counting and puzzle games to strategy and dexterity, games provide lots of opportunities for player transformation. But what if we could use games to transform whole communities? That's what we've been working on at iThrive Games Foundation, with our Game Design Studios. Our two-week game design camps, hosted in local communities with youth in classrooms, camps, and youth programs, seeks to expand the power of play by applying game design to social issues.
Of course, playing games can help us learn about systemsâ€"think Monopoly or the Game of Life. Game Design Studios challenge youth to go beyond making models of systems they know to transform the player through the experience of the game. Game design can open up space for dialogue, exploration, and empathetic listening, connecting teens to each other, and to adults that care about them, playing together to find understanding and brainstorm solutions.
We know games create experiential space to explore, test, try, fail, and learn together. We also know teens care deeply about the issues they face in their communities. Game Design Studios combine a supportive space where teens examine the issues they face with play and design-tools to help them bring their experiences to others. During Game Design Studios, teens share personal experiences through facilitated dialogue, learn about game mechanics, and of course play lots of different kinds of games. Groups produce game prototypes and share what they have created with their peers and community stakeholders, shaping a shared space for dialogue, spurring important conversations about the lives of youth, and generating solutions to issues youth face.
Youth feel the effects of the unequal system on their life—the education system, justice system, and the economy all have a profound effect on shaping the lives of teens, particularly those in marginalized communities. Power can feel like an abstract concept to teens, but games make power visible and playable. Teens can use game mechanics to see how rules, win states, and world-building shapes the world of the game, as well as the world they live in. 
At a recent Game Design Studio hosted in Marietta, GA, teens created a board game based on class structure, playing for the power of upward mobility. Players were eager to move to the top, but challenge cards kept players back with health care costs, student loan debt, and job losses. Designing the game, getting the information on the privilege and perils of class in America, and playing together make exploring the abstract easier, bringing power to life with a spin of the wheel.
Games create experiences to engage community in empathetic immersion. Youth game designers learn to balance player agency and uncontrollable constraints to shape the emotions of the player and help others tap into their experiences. At a Game Design Studio in Boston, teens shared their experiences with entry after contact with juvenile justice social service systems. They created a re-skinned version of Sorry called The Runaround, complete with parole violations, family setbacks, and missed fines. The game is frustrating to play: as soon as you get some pieces out you find yourself sliding back to the start. Players feel the stress, sadness, and frustration teens feel trying to get home and stay home. Though the game rarely has a winner, players have a chance to talk about how the systems designed to serve youth can better meet their needs. Adults take the experience of playing The Runaround with them when they return to institutions and agencies positioned to make a difference in services to support teens.
Game Design Studio creates important spaces for learning and growth, lessons that should be shared with teen communities. The encounters end with game showcases, inviting administrators and teachers, social workers and principals to play the games the teens have designed, and talk with teens about how to make the community one where teens have a seat at the table on issues that affect them. Teens have a chance to also learn from each other, exploring their peers' prototypes and sharing feedback and learning with each other. Long after the Game Design Studio is over, teens and adults can continue to dialogue about the issues that matter to them, playing and working together to help teens thrive.