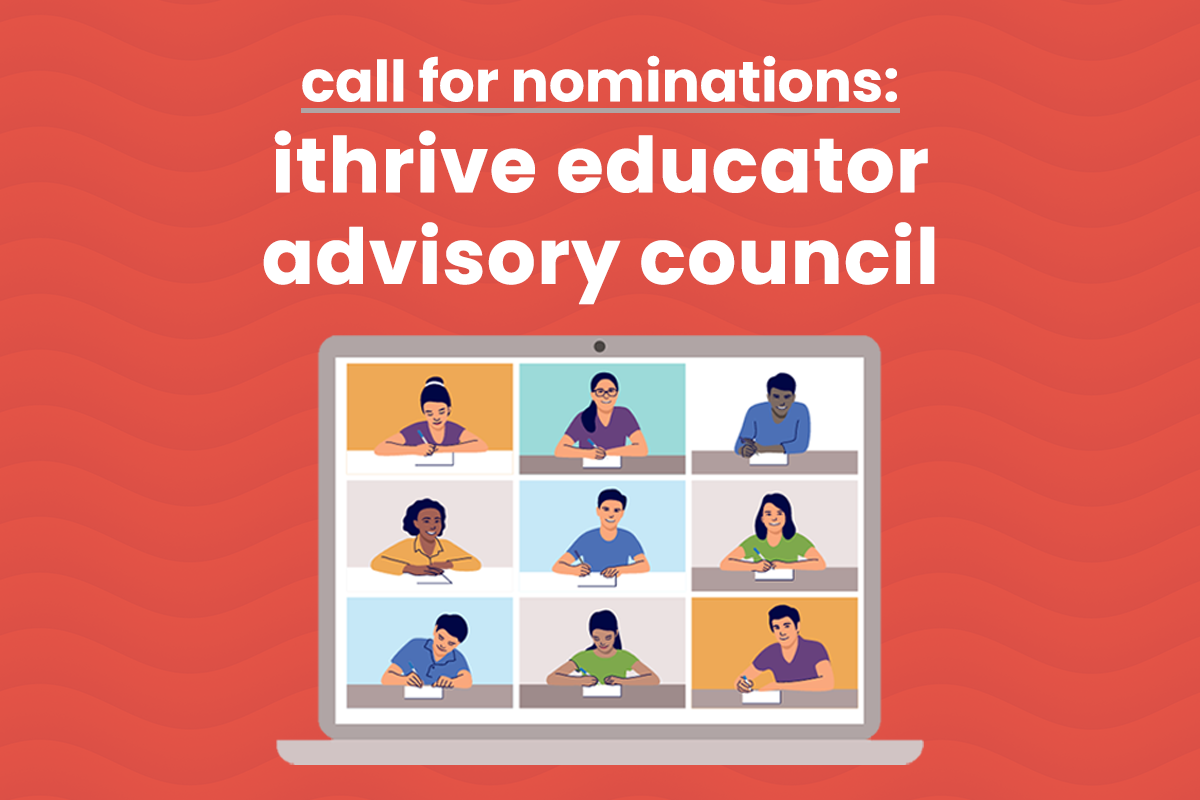 Category:
Call for Nominations: iThrive Games' Educator Advisory Council
We're looking for HS English or social studies teachers that are fired up about our mission and can help inform our growing body of game-based, social and emotional learning tools.
The iThrive Educator Advisory Council is a national hub of teachers that advises and supports iThrive Games Foundation in its mission to use games to equip teens with the skills they need to be healthy and resilient, the tools that support and protect their mental health and well-being, and the systems thinking they need to recognize inequity along with meaningful opportunities to imagine and design a better world.
Councilmembers are high school social studies and English Language Arts teachers and administrators who bring the perspective of passionate educators with deep insight into who teens are as people and as learners. Councilmembers will offer feedback on and promote resources for educators and teens that encourage student engagement, deep learning, and meaningful connection. 
iThrive commits to working with teens from traditionally marginalized groups, especially people of color, women, members of the LGBTQ community, those living with disabilities, English language learners, and those from working class backgrounds. We believe educators who teach these groups must be centered in the work that we do, so teachers who bring these experiences are encouraged to apply.
Benefits:
Virtual meeting that requires no travel

Meet new peers, connect with other teachers and engage in enriching conversations in community

Gain insight into deep knowledge on game-based learning and social and emotional learning

Visible listing on the iThrive's website as an iThrive Educator Advisory Council member

Honorarium for quarterly meetings and playtesting encounters
Responsibilities:
Bring your innovative, inspired perspective that contributes to forward thinking 

Commit to one term (two years of membership)

Attend quarterly advisory committee meetings online

Provide feedback on iThrive programs and initiatives

Notify colleagues of education program offerings at iThrive
You can nominate yourself or someone you think would love collaborating with us. Please fill out this form to apply or nominate a teacher you know, and contact us here if you have any questions. Nominations are open and will be considered on a rolling basis.