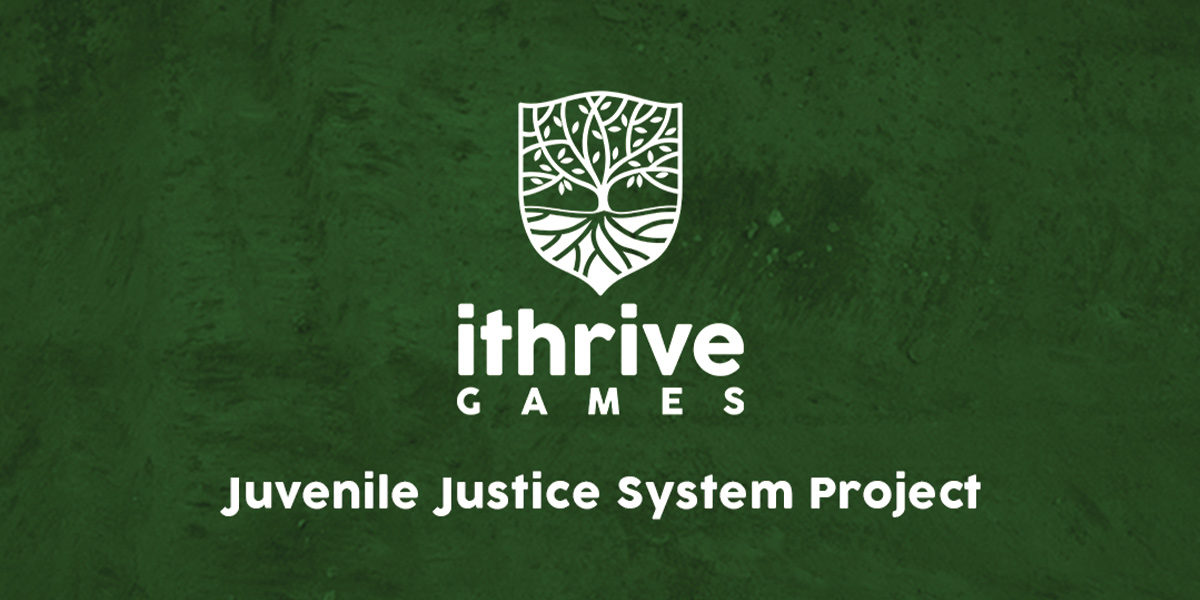 Category:
iThrive's Juvenile Justice System Project Aims to Support Black Youth
Earlier this year, we began thinking about how we can apply iThrive's co-design model to the juvenile justice system. Here's a look at our upcoming project.
This year, we'll be collaboratively working with young people who've been impacted by the juvenile justice system to amplify and understand their stories in order to create systems that better serve them and their communities. 
At the core of our work at iThrive Games is our belief that solutions to social challenges lie with the people who experience them firsthand. That is why we are fiercely committed to co-designing with teens.
We recognize the brilliance of the teenage mind and the power of each teen's voice. Whether we are co-creating a game design experience, playtesting a new game, or trying out a new game-based curriculum, teens have a seat at our table and are always ready and willing to tap into their experiences and co-design with us.
Earlier this year, we began thinking about how we can apply iThrive's co-design model to the juvenile justice system.
The juvenile justice system, as we know it, is riddled with deep racial inequity. Black youth, who account for 16 percent of America's adolescent population, make up 40 percent of the youth committed to juvenile detention facilities, and from 2003 to 2013, although overall arrests fell, Black and white disparities in juvenile detention grew by 15 percent.
The inequity is also seen in who within the juvenile justice system gets access to mental health care services. Nationwide, Black youth involved in the juvenile justice system are half as likely to be screened for mental health issues and Black males are 32 percent less likely to receive psychiatric care than white males. Research shows that inequity in the provision of mental health services based on race before, during, and after incarceration, negatively impacts the health, well-being, employment opportunities, educational attainment, and relationships of individuals of color who are or were system-involved. In other words, insufficient mental healthcare has lasting implications.
Despite how impacted Black youth are by the juvenile justice system, there is little to no research on their perspectives and ideas about how it can be improved. We want to help change that; specifically in the area of mental health.
Thanks to a grant from the William T. Grant Foundation, we are undertaking a project to increase our collective understanding of the lived experiences of Black youth within juvenile detention centers. The project uses iThrive's co-design approach to authentically engage with youth who have been impacted by the juvenile justice system, identify barriers, and explore opportunities to support their mental health within "the system."
We will invite approximately 40 Black youth (ages 13-25 years) who are detained in Georgia to participate in a series of design sessions with us. Working with each other and with workshop facilitators, youth will draw on their experiences with mental health in the juvenile justice system in service of contributing their voices to game prototypes designed to raise awareness among adult stakeholders and motivate action in the community to better meet their mental health needs.
As part of our evolved vision, we see a world where there is equal opportunity open to all and where teens from traditionally marginalized communities have the space to share their ideas and their stories. We are committed to doing all that we can to amplify the voices and experiences of youth most impacted by the juvenile justice system so that they have what they need to thrive. Over the next year, we'll provide updates about the insights the young people share. Sign up for our newsletter to learn more.