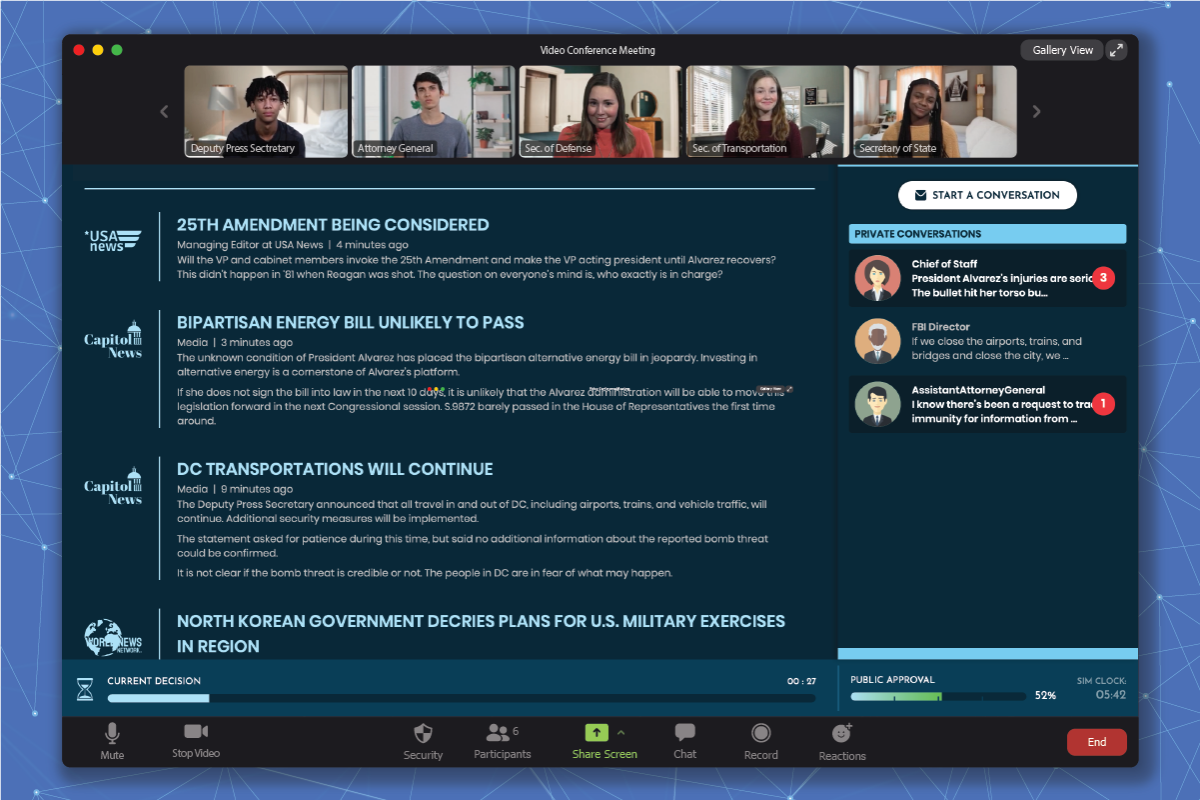 Category:
iThrive Sim Helps Homeschoolers Connect And Collaborate With Play
Whether online or in-person, connection matters. Cupola Academy's Michael Hilbert shares how iThrive Sim helped foster it for homeschooled students while supporting their civic and social and emotional learning.
iThrive Sim's first role-playing scenario launched in late 2020, a year that inspired us to elevate and prioritize human connection, and prompted new ways of fostering it. At the time, we heard educators voice a desire for resources that not only met the logistical needs of remote learning but also tended to the social and emotional needs of their students navigating a world of great uncertainty. Responding to this, we developed iThrive Sim: Lives in Balance in partnership with teens, teachers, and the makers of the Situation Room Experience, creating an immersive experience that supported new ways of connecting and engaging with others in learning spaces and beyond. Since launching, over 3,000 people have played an iThrive Sim scenario, activating and nurturing their social and emotional skills in a one-of-a-kind collaborative gaming experience awarded for its innovation and responsiveness.
Educators who've brought iThrive Sim to their in-person or virtual classrooms know firsthand how these civic learning experiences uniquely support engagement, connection, and social and emotional learning through play. Michael Hilbert, co-director of Cupola Academy, a nonprofit that offers weekly collaborative programs for homeschooled students, brought iThrive Sim to two cohorts of teens earlier this year. In the interview that follows, Michael shares how the tool aligns with Cupola Academy's belief in the value of collaboration and curiosity, and supports the learners they serve in embodying and exercising it.
Q: What was your experience using iThrive Sim with your homeschooled students? 
My group played Lives in Balance and Leading Through Crisis. My students were very interested in Leading Through Crisis because when we played the simulation, states were actively discussing [the applicability of the 25th Amendment]. The simulation was unfolding in front of them in the news every day, and they enjoyed being able to play out a very contemporary issue. They enjoyed Lives in Balance because of the application of the Constitution to everyday life—it helped to drive home the point that the Constitution is a living document.
Q: How easy was it to use iThrive Sim? What resources did you find particularly useful?
As a group facilitator, I really appreciated the support materials that are available to students, such as the text of the amendments addressed in the simulations. [iThrive Sim] was very easy to use and supported student play though they were not all in the same physical location. The interface is very intuitive for young people, so the amount of tech support needed was very minimal—this makes implementation with homeschoolers very easy. 
Q: One throughline in the feedback we get from educators who've used iThrive Sim is the joy that comes from witnessing their students work collaboratively to address the crises in each scenario. From what you observed, how did the experience support connection?
I believe that iThrive Sim is a component of what we strive to achieve in all our programming — creating community and connection. The simulation provides a shared experience that nurtures the group's sense of community. I think that participating in the simulation helped them feel more connected because it creates situations where young people are given responsibility for a role, asked to participate in a fun and engaging way, and end up sharing values and beliefs with others (which is how you build relationships).
Q: Overall, how did the iThrive Sim experience support your engagement approach with homeschoolers? How did it respond to your student(s) learning style(s)? 
I believe that the online simulation was an excellent tool for interactive learners. The iThrive Sim platform allowed me to have the freedom to be present in the simulation, take notes on the decision-making process, and have content questions that lead to richer reflection and a complete learning experience.
Q: At iThrive, we like to say that civics is social and emotional, meaning that showing up for ourselves, our communities, and in the world requires social and emotional skills that support us in doing so with care, tact, and empathy. Were there any instances that you observed while your students were playing that attests to this? What do you hope your students take away from their gameplay experience?
Going through the simulations emphasized the difficulty in adhering to a respectful, empathetic process when under challenging time frames to make decisions. My students noted in both situations that they frequently ran out of time to make challenging decisions while having everyone's opinion fully heard, a very frequent situation with governing bodies. One of the opportunities for my groups was initiating a process-conscious approach for decision-making before they entered the next scenario. The reflection element of these exercises is so vital for the social and emotional growth of young people.
Sign up for our mailing list for exclusive opportunities to play and test new iThrive Sim role-playing scenarios. Learn more about iThrive Sim here.