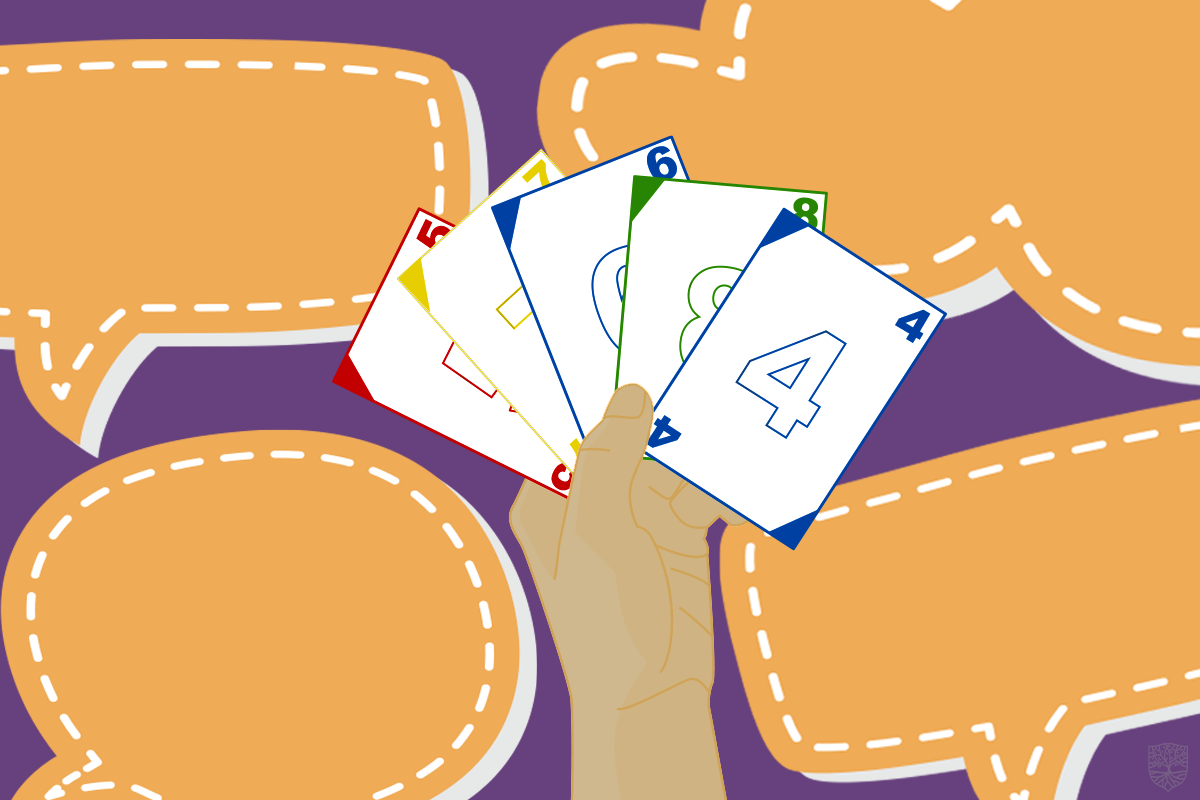 Category:
Power of Play: Tackling First-Day Jitters With a Game of CNUNO
Be it online or tabletop, games have always been avenues for connection and comfort. Read how a game of CNUNO, a spoof version of UNO, helped a Philadelphia-based high school student tackle her first-day-on-the-job jitters.
For many young people, games are more than play. Games provide a place to connect, a place to explore, and a place to learn. At iThrive Games Foundation, we have seen firsthand how gameplay can support teens in thriving, whether it's in the classroom or amongst friends playing together online.
We asked teens from a high school in Philadelphia to share a bit about their experiences with games. For extra credit in their sophomore English class, a few students shared their thoughts on questions such as, "How do games help you deal with life? What games are meaningful to you and how do they help you better understand yourself or the world? How do games help you question the way things are in the world?"
Over the next few weeks, we'll share their insights on play, from video games to card and board games. To protect their privacy, their reflections will be shared with initials rather than full names. We hope these stories illuminate the power of gameplay as seen through the eyes of these young people.
The following blog post is a submission we received from a teen sharing a story of what gameplay can do in their own words:
Gaming for Anxiety
E.M., High School Student, Philadelphia, PA
I started my first job at the beginning of sophomore year. I started working with my best friend and a girl I had never met. Our boss got us a card game called CNUNO. It is a knockoff version of UNO. We played it almost every day if there were no kids who needed homework help. 
We laughed constantly and it made it easier to get to know my co-worker. It is hard to get to know people, especially for me. I deal with social anxiety and it can get really bad in new places with new people. CNUNO was our icebreaker. Since I was at work, I did not have a choice on whether I really felt comfortable or even wanted to get to know my co-worker. Luckily, she did not turn out half bad! We are good friends now. 
I do not know why I get anxious about meeting new people, but it always helps if there is something to help with the awkward first few minutes. It is hard for me most times in any situation where I have to introduce myself. Icebreakers at school are a cause of panic for me. School presentations as well. When there is not a support system to lean on, it is so hard. Some people do not understand what it is like for me. When people force me to put myself in an uncomfortable position, they do not see the panic it causes.
CNUNO helped make an uncomfortable situation easy. I should never underestimate the strength that something so small has. It can help beyond belief and I am glad the game was there for me.
Have a story to share about games and what they mean to you? Share it with us here!