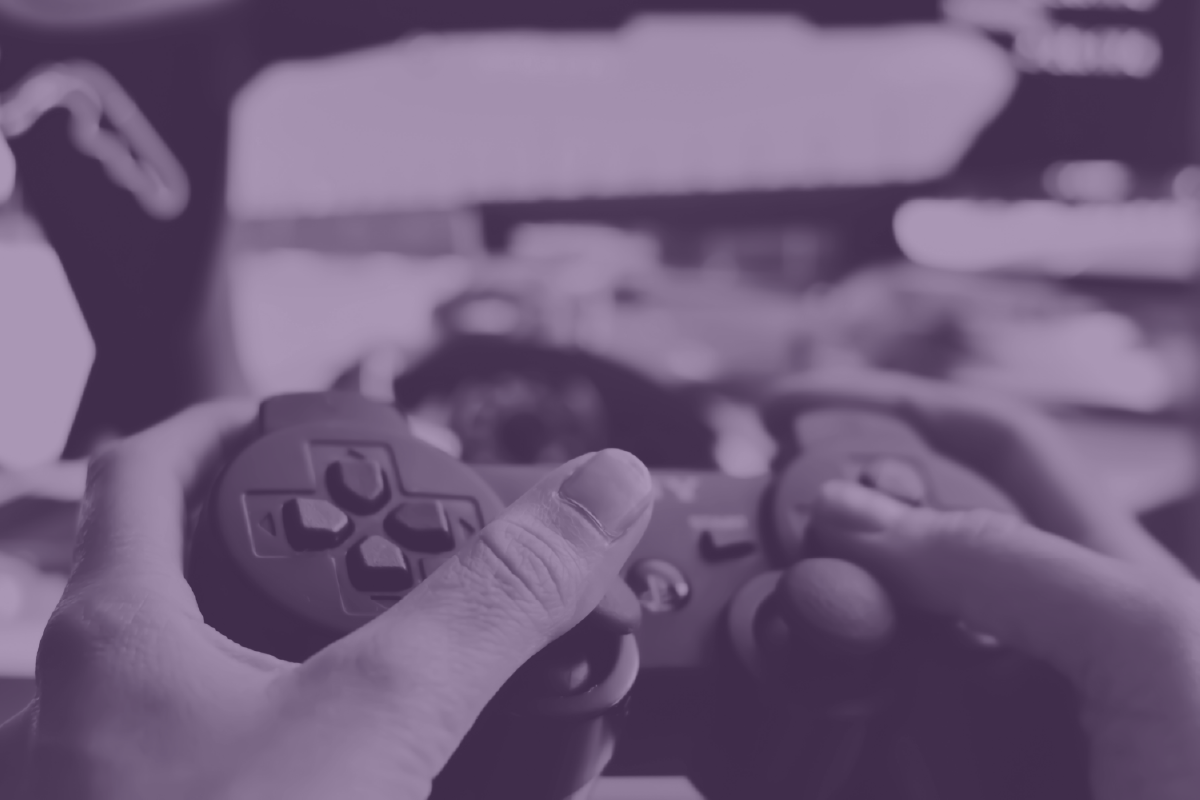 Category:
The Social and Emotional Learning Opportunities in Video Games
Video games support us in constructing new understandings of ourselves, each other, and the world around us, creating play experiences that bolster wellness.
The Last of Us. Elden Ring. Oregon Trail. Pokemon.
Though these popular video games vary in genre and generation, they share a throughline of social and emotional skills. 
Video games, often microcosms of the real world, mirror daily stressors, challenges, and relationship dynamics. They also reference the emotional tools we lean on to navigate them. The ideas and questions that surface while playing video games, reflected in their characters, plots, elements, and mechanics, provide us with springboards to try on and construct new understandings of self, others, and the world around us. As one teen author shared in our Power of Play series, "Gaming is not just a simple time waster...It has the power to connect and teach people like no other media can."
Immersive and interactive by nature, video games are unparalleled in their potential to help all who play them reflect on, practice, and familiarize themselves with the skills, attitudes, behaviors, and values that support wellness and thriving. Their social and emotional value makes them powerful levers for social and emotional learning.
What Social and Emotional Skill-Building Play Does for Teen Wellness
Play is a bolster to wellness for all of us, but for teens especially. 
The work of adolescence has always been social and emotional. Young people need tools and strategies to help them navigate it. Gameplay offers a way to meet them where they are and offers transformative and fun experiences. 
At iThrive Games, we fold what we know about the transcending and emotion-evoking power of games into a unique multidisciplinary, user-centered, and participatory approach that brings teens, scientists, game developers, and adolescent development experts to the table to envision, create, and test tools that support teen thriving. With over 90% of teens playing video games, we put forth play as a lever for deep learning to the libraries, museums, schools, and youth-serving organizations we work with. 
Games are unsurpassed in their ability to deeply engage teens in physical and virtual worlds to support their social and emotional development. They offer teens a safe space to wander and wonder, exercise their innate curiosity, and build new understandings of themselves and each other. The game-based tools and experiences we've created with partners and clients invite teens to practice how to disagree constructively, how to critically evaluate media messages, and how to manage stress. Performing these activities, tasks, and challenges, teens explore and experiment, sharpening the essential social and emotional skills that protect their mental health and support their wellness.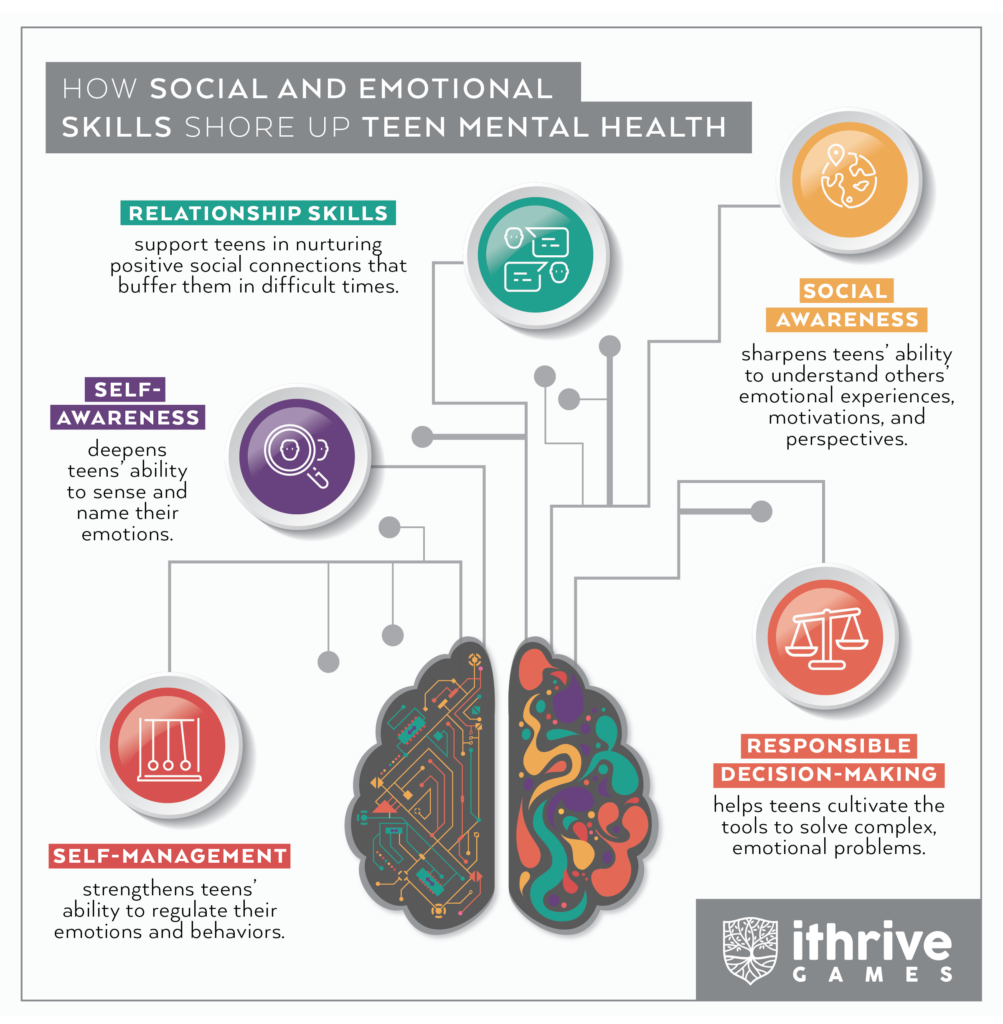 Download iThrive Games' How Social and Emotional Skills Shore Up Teen Mental Health infographic here.
A Look at the SEL Springboards in Your Favorite Video Games
Countless video games support players' social and emotional learning, presenting them with tasks, storylines, and challenges that reference or enlist the use of core social and emotional skills. Here's a look at a few:
Self-Awareness

in games can look like players self-selecting based on characters' strengths and weaknesses (

Super Smash Bros. Ultimate

), adopting a growth mindset (

Minecraft

), or them developing resilience to feedback (

Super Meat Boy

).

Social Awareness

in games can look like players empathizing with characters (

That Dragon, Cancer

), engaging from multiple perspectives (

NieR:Automata

,

Octopath Traveler

), or reflecting on how decisions impact other players or characters (

This War of Mine

).

Relationship Skills

are practiced in cooperative play experiences (

Fortnite

,

Destiny 2

) and can entail negotiating, problem-solving, and collaborating with others.

Responsible Decision-Making

in games can look like players weighing and watching the consequences of their choices to inform future ones (

The Wolf Among Us

) or trying different approaches and assessing results (

Mass Effect

).

Self-Management

presents itself in all games that invite players to persist through difficulty, prompting the feeling and managing of emotions like pride, frustration, gratitude, betrayal, guilt, forgiveness, complicity, and triumph.
Designing for teen thriving has led us to develop social and emotional skill-building games that deeply engage and connect young people in civics, media literacy, and current events. Our game guides offer tips for mental health practitioners who want to leverage games to connect with their teen clients. Our game-based curriculum units help teachers to transform learning in their high school English classrooms. These offerings are inspired by the wondrous magic of play and the potential games have in accelerating progress where all of us, young people especially, have the tools to thrive socially, emotionally, and cognitively. 
Join our mailing list here to learn more about our work designing for teen thriving.