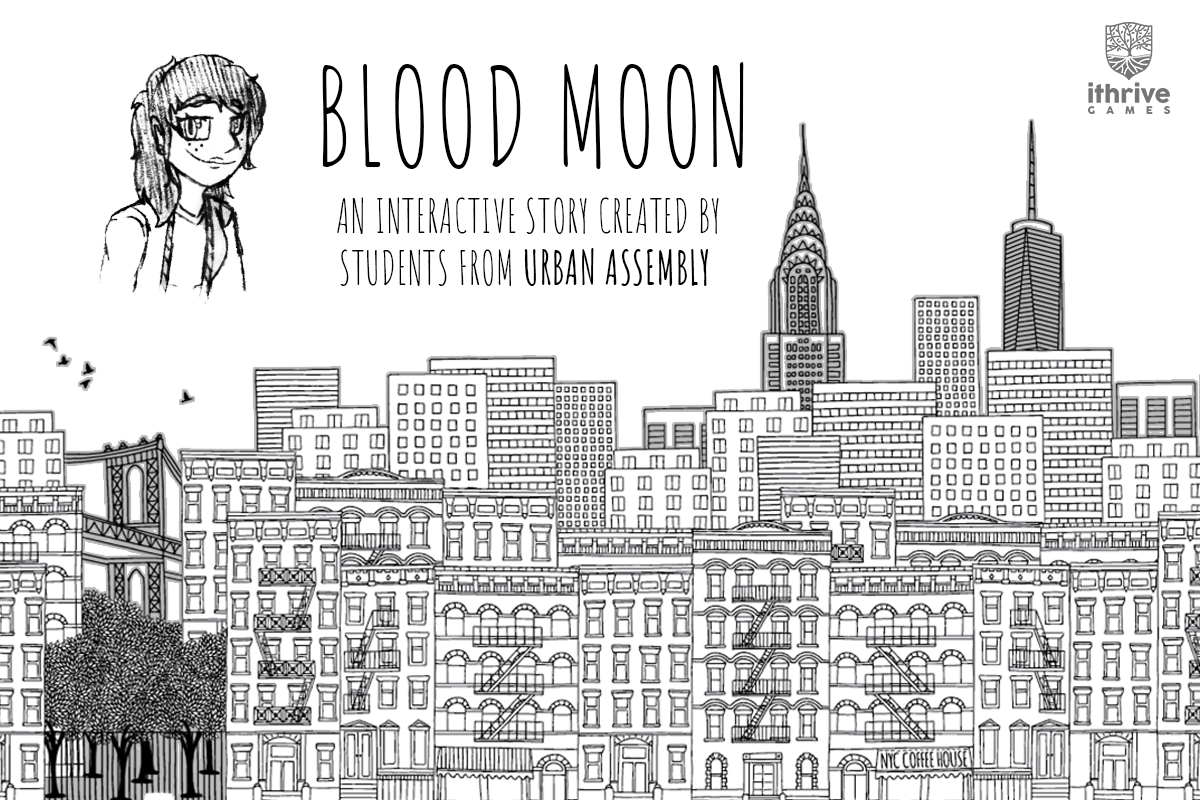 Category:
Urban Assembly Students Create COVID-19 Choose-Your-Own-Adventure Story
Earlier this year, we paired up with Urban Assembly for our first virtual Game Design Studio to co-design an interactive story game reflective of their experiences navigating the social upheaval of this year. Take a look at what the game revealed.
This spring, a cohort of high school students from Urban Assembly joined iThrive staff online for a design thinking and social and emotional learning co-design experience. The virtual Game Design Studio engaged teens in self-reflection, creativity, and systems thinking using the framework of game design. Over the course of six sessions, the students brainstormed ideas for a game that would share the perspective of teens living through the COVID-19 pandemic. 
The end result was an interactive story game called Blood Moon. Choose your own adventure and play the game here. The main character is Brooklyn teen Artemis, who wakes up from a long nap during the COVID-19 shelter-in-place orders. Her parents, hospital workers across town in Manhattan, should have returned from their shift by now. Where are they? Artemis must strike out of quarantine and into the streets of New York in search of her parents. Along the way she encounters helpers on her journey, runs into trouble both with the law and the locals, and even meets a super-sleuth delivery dog named Issac who won't leave her side until she is safely reunited with her family.
In order to track down her missing parents she will have to use all the tools in her social and emotional toolbox—she'll need self-management and self-awareness to keep herself strong, while her social awareness, relationship skills, and responsible decision-making will help her make connections and collaborate to solve the mystery.
Art Imitates Life
Early on in the development of this interactive story, the students wanted to create characters that reflected their world. There's Artemis, Ari for short, brave, and bold like the hunter for which she is named. This young Latinx powerhouse has a huge heart and the power of empathy, turning connections into relationships when she can, and setting healthy boundaries when she needs to. 
Ari meets Issac, a dog just as scrappy as she is. As a delivery dog for DoggoPrime, Issac knows how to get around the city, and he has a few tricks—and treats—tucked away in his knapsack to keep himself and Artemis on the trail of finding a family. He might just find a new family, too.
There's also Apollo, Ari's brother, who is the leader of the pack in their neighborhood and is just as bold as his sister. But while Ari looks for Mom and Dad, Apollo has a different journey to keep the city safe. He'll just have to keep everyone from thinking he is on the wrong side, including his sister Ari and that little mutt following her everywhere.
Other characters featured in the interactive story include Frank, the owner of a hot dog kiosk near the train station, who has seen it all, and knows Ari and Apollo are in more trouble than they know; Laura, Frank's sister, who is a master procurer who may or may not be able to help Ari find her parents but doesn't intend to stop trying; Captain Max, an officer who is here to make sure everyone shelters in place, but is starting to wonder if he is on the right side, or if he is quarantined from the truth; and Timmy, who lost his mind to COVID, is looking for family, and believes that helping Ari find her parents can help him back to himself.
Game Mechanics
Blood Moon is a branching narrative Twine game that can be played alone or with a group. The Urban Assembly students, who met via Zoom, wanted to create a game that teens could play by reading the interactive story together in Twine and then talking through the best ways for Artemis to make her way across the city by drawing on her social and emotional skills.
Students can debate Artemis' choices, and think about the ways that they use social and emotional skills in their own lives with friends and family. Blood Moon is text based and includes prompts for discussion, asking young people to talk about each of the social and emotional skills and learning. 
Social and Emotional Learning 
The interactive story applies social and emotional skills to the troubles teens face maintaining relationships during COVID, navigating family ties in stressful times, and managing the social upheaval of this year. Talking together provides teens with space to learn together and to practice the tools that will help save Artemis. In practicing those tools, the social and emotional skills are there for them when the game is over.
Visit the For Teens, By Teens page of our website to check out this interactive story game and other games created during iThrive's game design sessions with teens.
This work was supported through generous funding from the William T. Grant Foundation and the D.N. Batten Foundation.