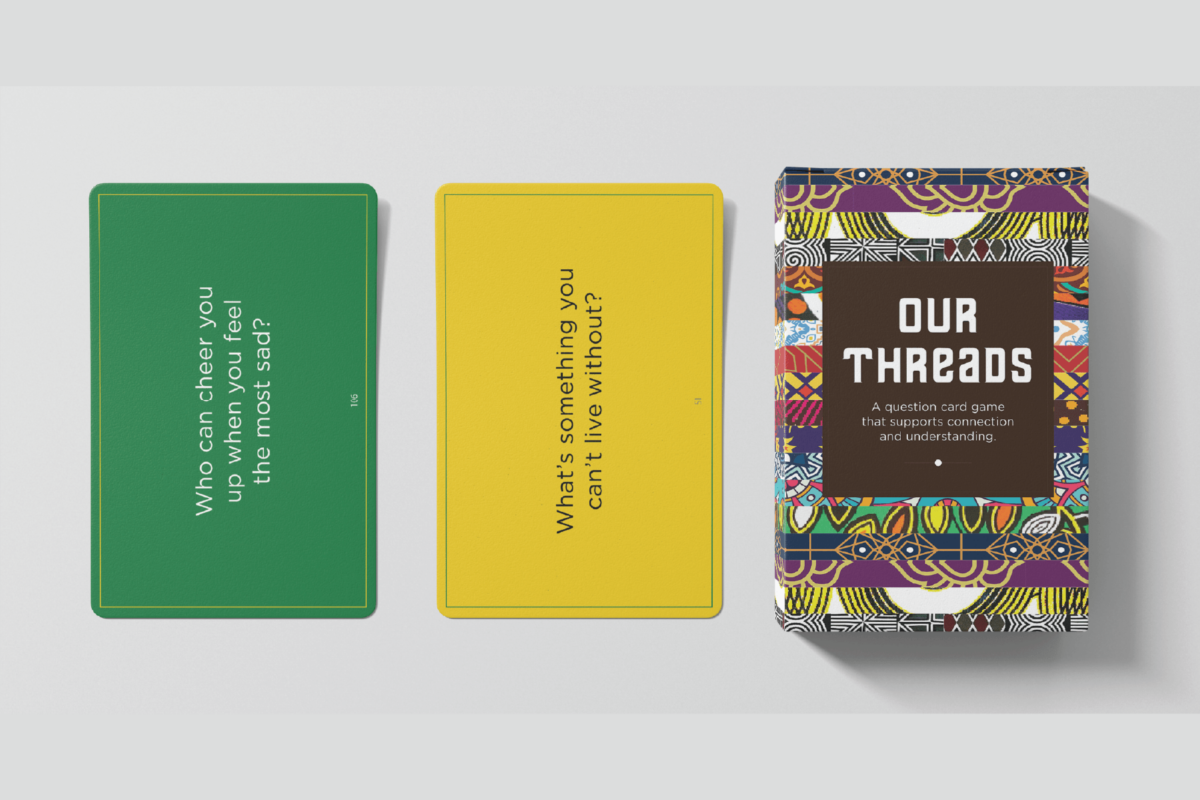 Category:
Fugees Family, iThrive Launch 'Our Threads', A Connection-Building Card Game
With Our Threads, a new card game created by students from the Fugees Family with iThrive Games, play becomes a lever for care, compassion, and connection in school communities.
BOSTON—Earlier this month, the Fugees Family in partnership with iThrive Games launched Our Threads, a question card game envisioned and created to help set the scene for empathy, connection, and curiosity in schools, especially between refugee and non-refugee students.
Our Threads was sparked by a question posed to 22 Fugees Academy high school students at an iThrive Studio: "What do you want teachers and other students to know, feel, say, and do when they connect with students who are new to this country and to their school?" After two days of stories, knowledge-sharing, collaborative thinking, and play, answers to this question began to take shape in games that highlighted a universal desire for empathy and tools to help facilitate it. 
"Empathy is essential to the world we all want to live in," shares Luma Mufleh, founder of the Fugees Family, which works to advance educational justice for refugee and immigrant youth by reimagining schools and retraining teachers. The Fugees team is also steering meaningful work to support the 60,000 estimated Afghan refugees resettling in the United States. "At Fugees Family, we lead with empathy. Our hope is that Our Threads helps spread the message and model that so much of what we seek to address and redress in the world is uncovered in community and while in connection to one another. It all begins with listening to and understanding each other."
In the generative space that was iThrive Studio: Fugees, students, reflecting on their stories, jotted down hundreds of connection-building questions that would be useful to anyone tasked with welcoming new students into a school community. After brainstorming questions, swapping decks, and iteratively testing them in groups, students decided which questions to keep. The iThrive Studio experience and the creations that came of it demonstrate the unique avenue game design provides to young people. It supports them in exercising their creativity, thinking analytically, and contributing meaningfully toward creating the world they want to live in.
"The beauty of Our Threads and the intent behind the game mirrors the magnificence of its young designers," says Susan Rivers, Executive Director and Chief Scientist at iThrive Games, a nonprofit that uses games and game design to support teens' social and emotional development, wellness, and thriving. "Whenever young people are given the reins to imagine freely along with the tools to delve deep into issues affecting them and their communities, we're reminded of why co-creation with them is vital to all that seeks to be sustainable. No one can take on a design challenge the way the young mind can."
For over 16 years, the Fugees Family has effectively used soccer as a tool for supporting students resettling in towns and cities across the U.S. in feeling understood, welcomed, and cared for. Our Threads, with its thoughtful mix of 108 light and thought-provoking questions and ornate, patterned covers representative of the 22 countries Fugees students hail from, builds on the same model - one in which play becomes a lever for care, compassion, and connection.
Our Threads ($34.99) is available now for anyone to purchase and is guaranteed to make a wonderful gift and addition to any holiday festivity. Purchase it exclusively on The Game Crafter website here.