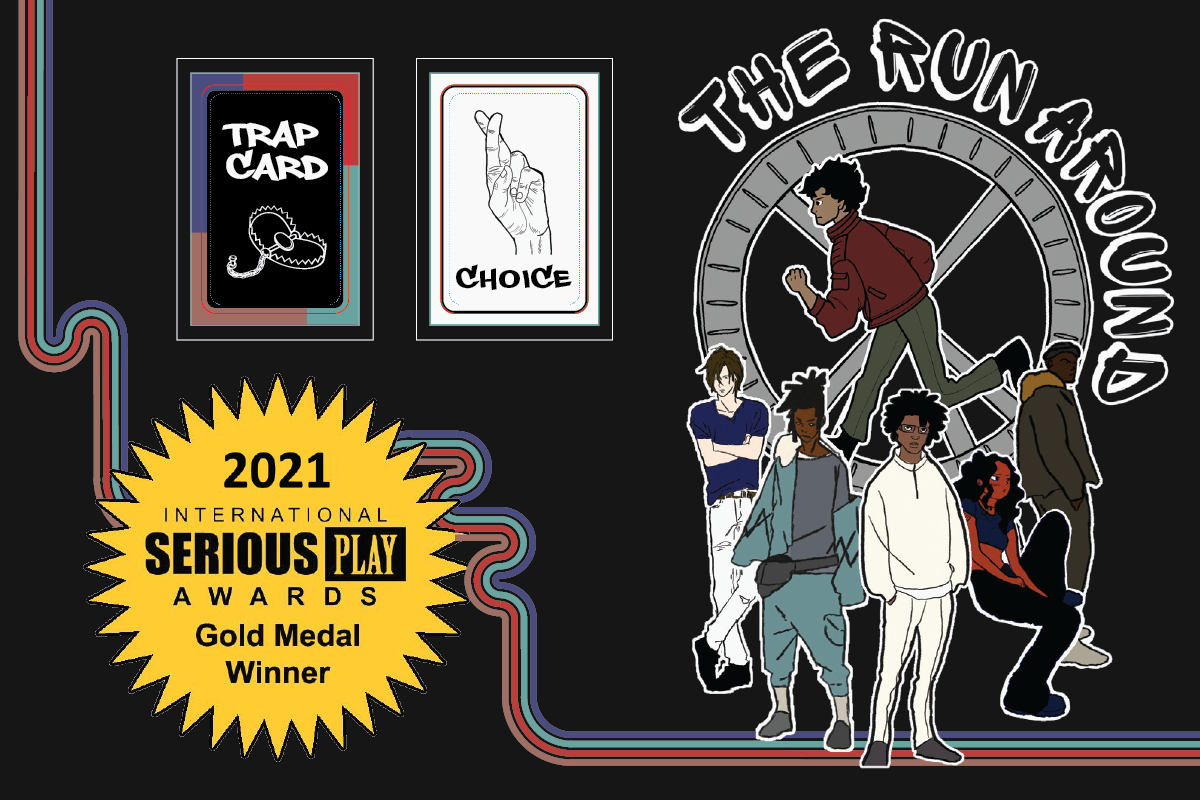 Category:
Youth Designers Collaborating with iThrive Games Win Serious Play Award
We're excited to announce that The Run Around, a tabletop board game created by youth designers at the SEED Institute, won gold at the 2021 Serious Play Awards!
BOSTON—iThrive Games is pleased to announce that The Run Around, created by youth designers in partnership with iThrive; Janelle Ridley, Founder of Transition HOPE; AGNCY; Black Ministerial Alliance/Ten Point Coalition; and Dr. Beverley Cush Evans with Lesley University; won a gold medal in the category of Educational Tabletop Games in the 2021 International Serious Play Awards Program. The program honors outstanding commercial and student titles used for education or training. 
Created from the lived experiences of the youth who designed it, The Run Around is focused on raising awareness about inequalities in the justice system. The designers sought to use their voice to shed understanding on the emotional, mental, and spiritual bondage the system creates, as they do not want others to fall into the same traps. 
Staff members were inspired by the experience of working with the youth designers.
"The process of changing and dismantling unjust systems has to center the voices of those who have been impacted by it," said Susan E. Rivers, Ph.D., Executive Director and Chief Scientist at iThrive Games. "I'm proud of the youth designers who shared their stories, challenges, and triumphs and collaborated to create this game that will educate adults on their lived experiences." 
The Run Around was developed to encourage empathy and change, with funding from the William T. Grant Foundation and the DN Batten Foundation. Game design and gameplay provide an opportunity to have important conversations around critical questions for designing systems that better support youth: how can systems help youth who are getting out of the justice system reintegrate successfully to stable living? How can we better understand young people's feelings, behaviors, and experiences to provide the structures, opportunities, and environments they need to thrive? 
To learn more about the SEED Institute, which highlights youth designers, click here.  Click here to read more information about the game design process.
###
Media Contact
Eghosa Asemota
eghosa.asemota[at]ithrivegames.org
ABOUT iTHRIVE GAMES
iThrive Games prepares teens to thrive by meeting them where they are and working in partnership towards a world where all have the voice, choice, and agency to reach their full potential. We use games and game design to equip teens with the social and emotional skills they need to be healthy and resilient.