Category:
What Teaching Hard History Does for Teens' Social and Emotional Learning
Teaching tough history equips teens with the awareness, motivation, and social and emotional learning skills to show up for themselves, their communities, and in the world. Here's how.
Teaching hard history helps students understand the implications of our past and their connections to our present. With this understanding, students are better positioned to confront future challenges and are primed to embody the social and emotional competencies that support them in being engaged, informed, and responsible members of society. 
At iThrive, we're committed to creating civic learning contexts that equip teens with the curiosity, practical experience, and social and emotional learning skills to handle and navigate the complex world we live in. Our iThrive Sim online role-playing simulation games, for example, invite high school students to step into the role of government officials tasked with making high-stake decisions that impact the public in profound ways. As students collaborate to analyze data and sources and chart a path forward in each of iThrive Sim's content-rich scenarios, they practice how to navigate sensitive themes and challenging issues in a healthy, curious, and thoughtful way.
On Wednesday, November 17 at 6 pm EST, we're excited to join forces with Facing History and Ourselves and Generation Citizen at Composer's "Teaching Tough History Through Civics & Social Emotional Learning" webinar to discuss strategies that support the integration of civic and social-emotional learning into history lessons that address tough themes and topics.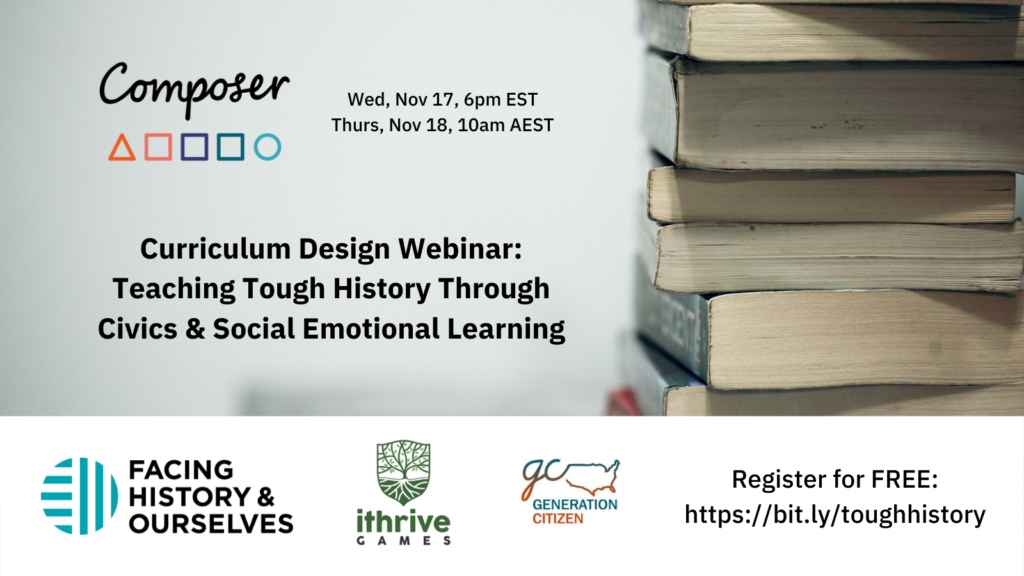 Register to join Composer's "Teaching Tough History Through Civics & Social Emotional Learning" webinar here.
There, our Senior Director of Learning, Michelle Bertoli, will highlight some of the social and emotional skill-building opportunities we've embedded in all of iThrive Sim's role-playing scenarios. Attendees will also learn from Dr. Shawn Clybor, who'll share how Composer, an award-winning curriculum design tool, helps teachers like him create dynamic learning experiences that prepare students for transformative civic engagement and meaningful civic action.
When teens who've played an iThrive Sim scenario share that the experience prepares them for "real-life situations and issues" or prompts them to reflect on what "we're all collectively facing, and why and how we should do a certain task," we're reminded of how teaching hard history supports them in showing up for themselves, their communities, and the world. 
At the individual level, teaching hard history topics enables them to see themselves as part of the larger historical narrative of our communities, country, and society. This supports students in building the self-awareness to challenge their assumptions, define their values, and figure out where things they love and are skilled at overlap with a need in the world. At the community level, teens build social awareness and relationship skills that support them in developing the competence to try on others' perspectives while expressing and refining their own. In learning about heavy historical topics and events, students also develop an informed worldview along with an understanding of systems of harm and injustice. This understanding equips them with the knowledge and motivation to advocate for a more just society and make responsible decisions for themselves and the collective. 
Teaching hard history can be challenging and may raise complex emotions for learners and educators alike, but when integrated with social and emotional learning, it becomes a powerful experience for students to reflect deeply about the world around them and the world they wish to live in. We're excited to dive into this topic further at the "Teaching Tough History Through Civics & Social Emotional Learning" webinar with educators across the globe. We hope to see you there! 
---
Composer is the first digital platform to offer a comprehensive collection of resources for activating a deeper sense of civic responsibility in students. As a one-stop marketplace, Composer enables educators to access a whole ecosystem of content providers in one place. They can search for and find resources that span civics, social justice, social and emotional learning, and global competence. Composer features over 1,000 high quality learning experiences from over 35 organizations, and provides research-based tools and guidance to support educators with curriculum planning. Serving educators working with grades 6-12 in both schools and non-traditional learning environments (afterschool programs, summer camps and/or home school), Composer is free to access for educators around the world.