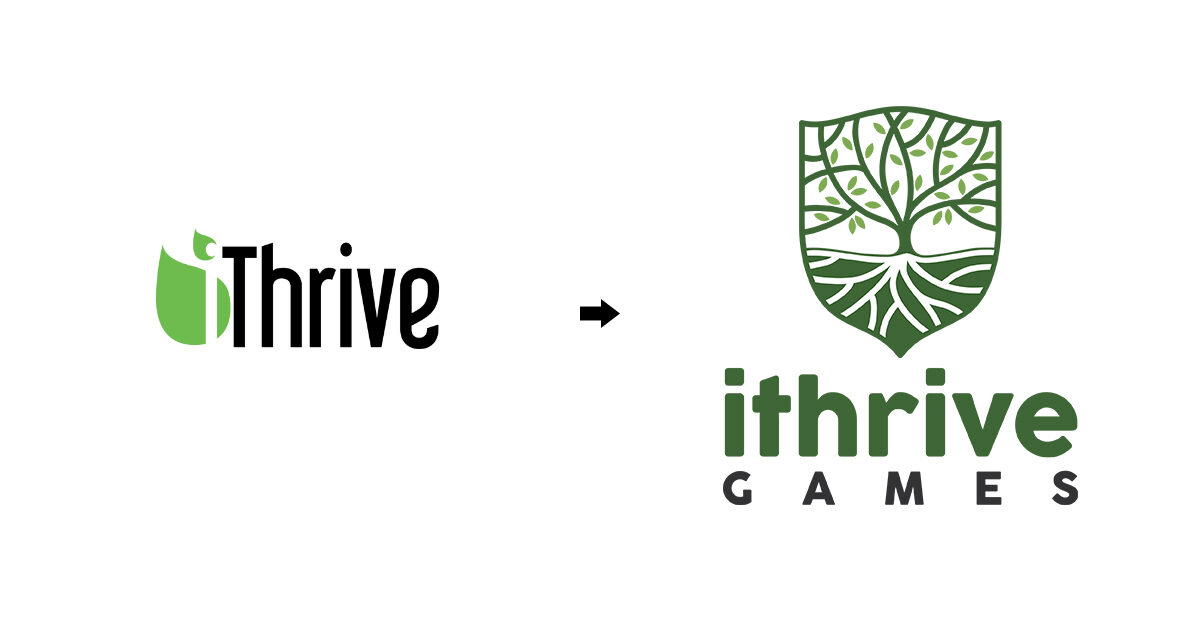 Category:
Officially Introducing Our New Name and Logo!
At the root of iThrive Games is a focus on strengths and the power of play to support learning and growth, especially in teens. Over the past few months, we've been revisiting how we convey that message through our visual brand.
When Dorothy Batten first founded our organization in 2014, we went by iThrive. Our original logo used a bright green leaf to represent our focus on growth. The "i" in iThrive was accented in a contrasting color, evoking associations with some popular brand (wink) of tech devices.
iThrive logo, 2014-March 2017
During a team strategy meeting in March of 2017, we reflected on how we have spent our time over the last year and began to feel that our logo, and our organization name, was missing a key piece. Over the past year, we've hosted two "design hives," our signature multi-day think tank events with amazing game developers. We've collaborated with game studios like Filament Games and 1st Playable Productions to create new titles focused on empathy. We've designed independent study courses for undergrads about designing for strengths with game dev Doris Rusch at DePaul University. We've hosted game jams with high school and college students at MAGFest and DePaul. We've run a successful game design program with students at Boys and Girls Clubs. We're not a game studio, but everything we do is about inspiring and collaborating to create meaningful games, now and in the future. So by the end of that meeting, iThrive had become iThrive Games, and a very temporary logo followed:
Temporary iThrive Games logo, March-May 2017
Once we embraced our new name, it was time to revisit the logo. We felt our leaf design with the white "i" conveyed growth, maybe even growth through technology, but not growth specifically through gameplay. We considered some possibilities that featured a game controller:
One controller-based option we considered but never used.
We liked these, but given the massive increase in games played on a smartphone or tablet, we thought a controller icon was too limited. We wanted to evoke games without choosing one specific game platform. We still liked the leaf but wondered what other iconography we could adopt to represent our strengths-based perspective and our focus on games. Then one of our newest team members, associate producer Sean Weiland, happened to mention seeing a leaf/shield amalgam from Shroud of the Avatar.
The team loved that the shield evokes the tale of the hero's journey that pervades so many games and that it signifies strength and people's ability to buffer themselves against the forces that would do them harm.
Psychological strengths do that, too. They build us up and protect us from the brunt of the difficulties life throws at us. Psychological shields are made of strategies and practices we can draw on—things like focusing on what we're grateful for, being mindful, connecting with others—when times are tough as well as when times are good.
We ran with the shield inspiration, making it into the frame for some of our original plant-related iconography. We expanded the leaf into a whole tree, roots and all. We wanted to emphasize that strengths-based themes and mechanics in games can set down strong roots for developing teens, empowering them to thrive now and later in life. This thriving is represented in the bright green leaves growing across the wide and vibrant canopy of the flourishing tree.
iThrive Games' new logo, vertical version, June 2017
From a compositional standpoint, we also liked that from far away, the white spaces between the lowest branches and the ground resemble eyes, making the overall shape look sort of like a face. This reinforces our ultimate focus on players, those we want to empower to use their strengths and thrive.
With our new name and new logo, we're moving forward energetically, as dedicated as ever to our mission to empower teens to thrive through great games!
iThrive Games' new logo, horizontal version, June 2017
What do you think of our branding facelift? We'd love to hear your reactions in the comments!